2015 Glassman Symposium takes interdisciplinary approach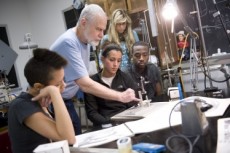 The third annual Robert B. Glassman Memorial Brain, Mind, and Behavior Symposium will be held from 5:30–8:30 p.m. on Thursday, November 12.
The symposium is a highlight of the College's award-winning 12th annual Brain Awareness Week on campus Monday, November 9 through Saturday, November 14. The symposium is named for Robert Glassman, a former psychology professor at the College who died in the spring of 2013. 
The Glassman Symposium will begin with poster presentations by students and alumni from 5:30–6:45 p.m. in Calvin Durand Hall at the Mohr Student Center, highlighting research conducted not only at the College, but in Chicago-area medical schools, including Northwestern, Rush, and Rosalind Franklin University of Medicine and Sciences.
This session will be followed by interdisciplinary faculty and alumni talks on the phenomenon of memory, bad behavior, lying in the courtroom, and rescuing brain cells with faulty memory from 6:45–8:30 p.m. in Lily Reid Holt Memorial Chapel.
"As far as I can remember, Bob Glassman has been the greatest champion for neuroscience at Lake Forest College," Professor of Biology Shubhik DebBurman said. "It was his vision to teach neuroscience to students and the community with the broadest of strokes by bringing disciplines together. I think he would appreciate how we have honored him and how his vision for this discipline is flourishing in exceptional ways at our college."
The Glassman Symposium, like all Brain Awareness Week events, are free and open to the public.