2013 graduate: "Doing research on and off campus set me apart"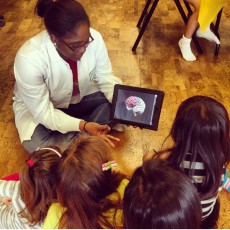 Kim Diah '13, one of the College's first neuroscience majors, credits her recent job offer at Max Planck Florida Institute for Neuroscience to the three years of research experience she gained working alongside her professors and at nearby Rosalind Franklin University, a partner of Lake Forest College.
"I thought it would be a great fit for me because I had all of the experience they were looking for, so I applied," Diah said of the position at Max Planck. "I had a Skype interview with them and had a job offer the same day."
Diah is a research technician/surgical assistant in the lab of David Fitzpatrick, which focuses on the functional organization and development of neural circuits in the cerebral cortex. There, she performs survival surgeries on lab animals using techniques such as histology, immunohistochemistry, and immunofluorescence. She used each of these in her senior thesis work with Rosalind Franklin's Dr. Kuei Tseng, and she also pulled from her research experience with the late Professor of Psychology Bob Glassman.
Diah is listed as a co-author with Tseng on a paper that discusses her thesis work. Titled "Region-Specific Upregulation of Parvalbumin-, but Not Calretinin-Positive Cells in the Ventral Hippocampus During Adolescence," the paper recently was published in the scientific journal Hippocampus. 
Between the job offer and the publication, it's been an exciting fall for Diah.
"I'm really grateful for the different opportunities that Lake Forest College gave me," said the recent graduate, who also majored in psychology at the College. "I've been able to use almost everything that I've learned so far to get where I am. I think doing research on and off campus set me apart when it came to the job application process. My resume stood out because of the different experiences and jobs I had while at Lake Forest."
Diah remembers when neuroscience was added to the College's line-up of majors in the spring of 2010. She was a sophomore. Combined with her psychology major and natural interest in the brain, neuroscience rounded out her educational ambitions. Down the road, she plans to work toward a PhD in behavioral neuroscience and is exploring programs at Northwestern, Duke, Emory, and University of Wisconsin-Madison.
Students like Diah have set a high standard for others who follow her. Among other accolades, she earned the Samuel W. Smith Scholarship and the Nu Rho Psi Leadership Award while a student at Lake Forest College. She also completed an internship in the psychiatric wing of Vista Medical Center in Waukegan her junior year — an opportunity she discovered with the help of the Career Advancement Center and secured with the help of Kathryn Dohrmann, internship supervisor for the Department of Psychology.
Diah also collaborated with Maria Basith '14 to write an original grant proposal for their class Mechanisms of Brain Dysfunction last fall, which was published in Eukaryon and garnered attention from the professional scientific community.
"Our students have great original ideas that come out of rigorous course work and that could be of relevance in the real world," said Shubhik DebBurman, biology professor and neuroscience chair. "Kim's current success is illustrative of the academic and co-curricular preparation that has helped our first few batches of neuroscience graduates embark on a truly diverse range of scientific and medical careers."
News Contact
Kellie Doyle
Assistant Director of Communications and Marketing
847-735-6177
doyle@lakeforest.edu