Brain Awareness Week to address hot topics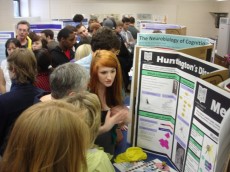 The brain's effect on emotions, gambling, religion—even sex—will be explored during the 11th annual Brain Awareness Week on campus this week.
Highlights of the week include a lecture about addiction with University of Chicago Professor of Psychiatry & Behavioral Neurosciences Jon Grant from 4:15 to 5:15 p.m. on Monday; a talk titled, "Brain, Social Neuroscience and Loneliness," with University of Chicago Professor of Psychology John Cacioppo from 4:15 to 5:15 p.m. on Wednesday; and a campus screening of the 1993 film, What's Eating Gilbert Grape, starring Johnny Depp and Leonardo DiCaprio, including an interdisciplinary faculty panel, from 7:30 to 10 p.m. on Friday.
Students will present outreach seminars on topics including sleep and memory, addictions, autism, and emotions and sex in three sessions, 5:30 to 7 p.m. on Monday; noon to 9 p.m. on Tuesday; and 7 to 9 p.m. on Wednesday.
"Abnormalities of the brain are part of our normal lives. It's important to be aware about how our body functions," neuroscience major and presenter Kayla Huber '16 said.
Huber believes the award-winning week of activities "relate very intimately to all of us."
"The goal of Brain Awareness Week is to educate the public and the college community about how our brains work and why learning about that matters," Professor of Biology Shubhik DebBurman said.
 "The mind controls all our behaviors, relationships and contributions we make as human beings."
The second annual Robert B. Glassman Memorial Brain, Mind, & Behavior Symposium, in honor of the late professor of psychology who played a leading role in developing the burgeoning neuroscience major at the College, will take place on Thursday.
The Glassman Symposium will feature poster presentations by students and alumni from 5:30 to 6:45 p.m. followed by interdisciplinary faculty talks on dementia, slight of mind, glial cells, religion and the brain, and lying about sex in early adolescence from 6:45 to 8:30 p.m.
Brain Awareness Week will wrap up from 7:45 to 10 p.m. on Saturday with Best Friends Improv, featuring the College's own talents, followed Mind Mysteries of Bill Gladwell, one of the country's best-known mentalists.
Brain Awareness Week as a "very student-run show," DebBurman said. "It takes months to organize and it's a pretty tremendous co-curricular activity."
The free, public event will be held Monday-Saturday, November 10-15.
News Contact
Linda Blaser
Manager, News and Media Relations
847-735-6177
blaser@lakeforest.edu