"Brain Awareness Week" to address hot topics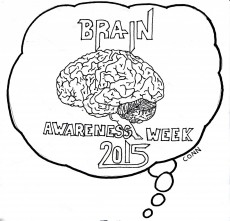 How the brain reacts to concussion, stress, language, machines—even common medications—will be explored during the 12th annual Brain Awareness Week at Lake Forest College, November 9-14.
Highlights of the week include:
"Choke: What Secrets of the brain reveal about getting it right when you have to," by University of Chicago Professor of Psychology Dr. Sian Bielock, 4:15–5:15 p.m. on Monday
"The Mind Onstage: What Does a Conversation Taste Like? How to Make Theatre Out of Brains," by the theater department and The Laboratory for the Development of Substitute Materials, 7–9 p.m. on Monday
"Heads Up!," a panel discussion on the brain and concussions in sports, 7:30–9:00 p.m. on Tuesday
"Searching Remote Villages for Alzheimer's and ALS Cures" with Institute of Ethnomedicine Director Dr. Paul Alan Cox, 4:15–5:15 p.m. Wednesday
The Theory of Everything, the 2014 film about the relationship between famous physicist Stephen Hawking and his wife, including an interdisciplinary faculty panel discussion, from 7:30–10 p.m. Friday
Students will present outreach seminars on topics including thought and language, sleep and emotions, memory and sexuality, and addiction and love in three sessions, 5:30–7 p.m. on Monday; 5:30–7:30 p.m. on Tuesday; and noon–9 p.m. on Wednesday.
"This year we are making neuroscience more interdisciplinary and bridging the gap between various fields, such as theater, athletics, and philosophy," Logan Graham, class of 2017, said.
"The goal of this year's Brain Awareness Week is to look at how our brain works from a wide variety of perspectives and what happens when it doesn't work properly," Professor of Biology Shubhik DebBurman said.
The third annual Robert B. Glassman Memorial Brain, Mind, and Behavior Symposium, in honor of the late professor of psychology who played a leading role in developing the popular neuroscience major at the College, will take place on Thursday. The symposium will feature poster presentations by students and alumni from 5:30–6:45 p.m. followed by interdisciplinary faculty talks on the phenomenon of memory, bad behavior, lying, and rescuing brain cells from 6:45–8:30 p.m.
Brain Awareness Week will wrap up from 7:45–10 p.m. on Saturday with Best Friends Improv, featuring the College's own talents, followed by "Mind Mysteries of Dr. Jim Wand," one of the country's best-known hypnotists.
"Brain Awareness Week is a very student-driven week that attracts over 1,000 community participants and features the academic work of over 100 students," DebBurman said. "It takes months to organize and is a wonderful example of interdisciplinary faculty-student collaboration that ferments best at liberal arts colleges."
All events are free and open to the public. Lake Forest College is located at 555 N. Sheridan Road in Lake Forest. For more information, visit www.lakeforest.edu/events.