<div style="background-image:url(/live/image/gid/6/width/1600/height/300/crop/1/30027_self_designed_major.rev.1451946126.png)"/>
<div style="background-image:url(/live/image/gid/6/width/1600/height/300/crop/1/30025_education.rev.1451945980.png)"/>
<div style="background-image:url(/live/image/gid/6/width/1600/height/300/crop/1/29871_papers.rev.1452013163.png)"/>
<div style="background-image:url(/live/image/gid/6/width/1600/height/300/crop/1/30028_english-_literature.rev.1452013046.png)"/>
<div style="background-image:url(/live/image/gid/6/width/1600/height/300/crop/1/30024_area_studies.rev.1451945934.png)"/>
<div style="background-image:url(/live/image/gid/6/width/1600/height/300/crop/1/30485_library.rev.1454952369.png)"/>
Nu Rho Psi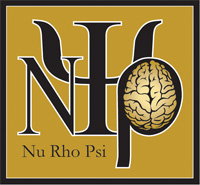 Lake Forest College became the 26th member of Nu Rho Psi, the National Honor Society in Neuroscience, founded in 2006 by the Faculty for Undergraduate Neuroscience  in spring 2012. Nine neuroscience majors and two faculty were inducted as charter members. After a successful first year, an additional four neuroscience majors, one faculty member and three recent alumni were inducted in spring 2013. 
In 2014, our chapter was honored as the National Chapter of-the-Year at the annual Society for Neuroscience meeting in San Diego (CA).
The purpose of Nu Rho Psi is to:
encourage professional interest and excellence in scholarship, particularly in neuroscience;
award recognition to students who have achieved such excellence in scholarship;
advance the discipline of neuroscience; encourage intellectual and social interaction between students, faculty, and professionals in neuroscience and related fields;
promote career development in neuroscience and related fields;
increase public awareness of neuroscience and its benefits for the individual and society; and encourage service to the community.

 
Congratulations to the new Nu Rho Psi inductees! On April 28th, new members of Nu Rho Psi were inducted into our chapter!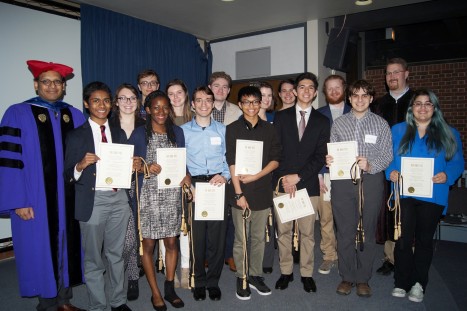 2012 Nu Rho Psi induction
Upcoming Events
November 7th- Keynote Lecture from Dr. James Mastrianni, "Mad Cows, Cannibals, and Insomniacs: The deadly consequences of prion shapes." Held at 4:15 in Meyer Auditorium.
Brain Outreach: Mohr Student Center, 5:30pm-7pm.
Neuro 388 Presents: The Plastic Brain, 6:30pm-8pm. Mohr Student Center Balcony.
November 8th- Lydia Diamond presents the Mind and Society Dialogue, "Brain, Race and Theatre." 4:15pm-5:30pm, Reid Chapel. This talk will be live streamed! If you can't attend please tune in!
Brain Outreach: Mohr Student Center, 5:30pm-7pm.
PHIL 296 Presents: Perception and Illusion, 7pm-9pm, McCormick Auditorium.
November 9th- Magic Steve in the Cafeteria during lunch!
The Fifth Annual Robert B. Glassman Symposium: Brain, Mind, and Behavior Symposium, 5pm-8:30pm.
Undergraduate and Alumni Poster Session: 5pm-6:40pm, Calvin Durand Hall (Wood Lounge).
Faculty/Alumni Talks: Music, Theatre, Biology, Neuroscience, English, 6:50pm-8:30pm, Reid Chapel.
November 10- Frontiers of Neurology, 12pm-4pm, Johnson 200. 
Campus movie and panel discussion, One Flew Over the Cuckoo's Nest. Discussion before and after with Jennifer Fast (Counseling Center), Janet McCracken (Philosophy), and Jean-Marie Maddux (Psychology).  7:30 to 10 p.m., McCormick Auditorium
November 11- Mind Mysteries of Sean Bott, 8pm, Mohr Student Center, Main Floor.