<div style="background-image:url(/live/image/gid/6/width/1600/height/300/crop/1/29871_papers.rev.1452013163.png)"/>
<div style="background-image:url(/live/image/gid/6/width/1600/height/300/crop/1/29873_header-aerial.rev.1450206652.jpg)"/>
<div style="background-image:url(/live/image/gid/6/width/1600/height/300/crop/1/30024_area_studies.rev.1451945934.png)"/>
<div style="background-image:url(/live/image/gid/6/width/1600/height/300/crop/1/30485_library.rev.1454952369.png)"/>
<div style="background-image:url(/live/image/gid/6/width/1600/height/300/crop/1/30027_self_designed_major.rev.1451946126.png)"/>
<div style="background-image:url(/live/image/gid/6/width/1600/height/300/crop/1/30028_english-_literature.rev.1452013046.png)"/>
<div style="background-image:url(/live/image/gid/6/width/1600/height/300/crop/1/30025_education.rev.1451945980.png)"/>
Nu Rho Psi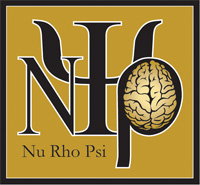 Lake Forest College became the 26th member of Nu Rho Psi, the National Honor Society in Neuroscience, founded in 2006 by the Faculty for Undergraduate Neuroscience  in spring 2012. Nine neuroscience majors and two faculty were inducted as charter members. After a successful first year, an additional four neuroscience majors, one faculty member and three recent alumni were inducted in spring 2013. 
In 2014, our chapter was honored as the National Chapter of-the-Year at the annual Society for Neuroscience meeting in San Diego (CA).
The purpose of Nu Rho Psi is to:
encourage professional interest and excellence in scholarship, particularly in neuroscience;
award recognition to students who have achieved such excellence in scholarship;
advance the discipline of neuroscience; encourage intellectual and social interaction between students, faculty, and professionals in neuroscience and related fields;
promote career development in neuroscience and related fields;
increase public awareness of neuroscience and its benefits for the individual and society; and encourage service to the community.

 
Welcoming our newest Nu Rho Psi Inductees!
2012 Nu Rho Psi induction
Upcoming Events
Sept 7, 2018- Movie showing: Lorenzo's Oil
Join us in the viewing of Lorenzo's Oil and learn about a rare disease called adrenoleukodystrophy (ALD). 
Location: McCormick Auditorium 6:00
 Oct 28, 2018- The Walk to End Alzheimer's- Chicago
Nu Rho Psi will be joining in the Walk to End Alzheimer's as an effort to raise awareness for the disease and support the work of the Alzheimer's Association. Join our team or donate here!
Location: Montrose Harbor 
Montrose Ave. and Simonds Dr. 
Chicago, IL 60613