What's happening on virtual campus?
What's happening on our (virtual) campus this semester? Lots!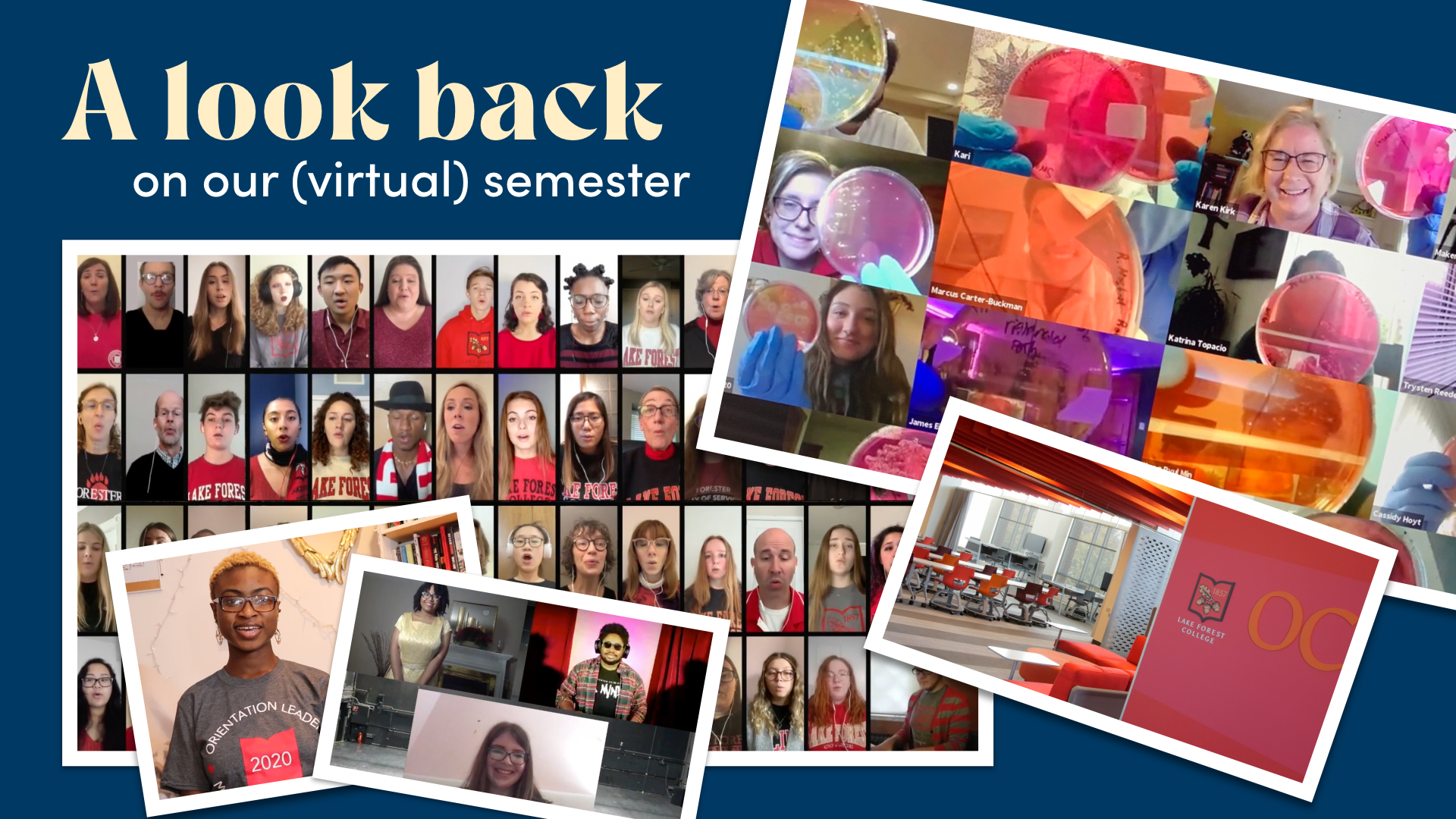 Foresters are as busy as ever and connecting in many exciting ways. Look for new videos each week to see what's happening (virtually) around campus.
Lake Forest College choirs bring joy
December 23, 2020
From all of us at the College, best wishes for a healthy and happy New Year! Let us all be the change we want to see in 2021. Enjoy this uplifting message brought to you by our very own Lake Forest College choirs. #ForesterFamily
Alumni engage and the Health and Wellness Center supports
December 2, 2020
In this video, alumni engage through the Foresters Connect program, while the Health and Wellness Center provides virtual counseling, support spaces, and stress reduction workshops to the campus community.
Music Department delights
November 25, 2020
The Concert Choir, Sylvan Singers, faculty, staff, and community members share their uplifting performance of the Alma Mater with the Lake Forest College community. Enjoy!
Psychology labs go virtual and Global Engagement keeps connecting
November 18, 2020
See how psychology research labs get things done in a virtual world and hear how the Global Engagement Office continues to connect students to global opportunities.
Visitors join virtual classrooms and Activism Club stays involved
November 11, 2020
This week, see how professors tapped into their professional networks to bring experts into their virtual classrooms and hear how the Activism Club is staying involved and inspiring discussion on social issues.
Student Government restructures and Student Ambassadors connect
November 4, 2020
Learn how Student Government restructured the Student Senate and is bringing clubs together with the new Club Council. See how Student Ambassadors help admissions connect with prospective students in this virtual world.
See campus updates: Brown Hall, Oppenheimer Center for Entrepreneurship & Innovation, and Mohr Field
October 28, 2020
Take a look at the progress being made on three vital campus projects. See how Young Hall is being transformed and expanded into the new Brown Hall, take a peek inside the new Oppenheimer Center for Entrepreneurship & Innovation, and get a bird's eye view of the new Mohr Field.
The Career Advancement Center Connects and Student Programming Board brings fun
October 21, 2020
In this video, see how the CAC virtually connects students with career professionals, internships, and advisors and the Student Programming Board announces fun upcoming events with new points program.
The Gates Center shows how to get involved
October 14, 2020
The Gates Center shows where to find all of the details of virtual campus happenings this semester, and educates you on the three best ways to get involved and stay connected to the College.
Debate 2020 Watch Parties and getting involved with Empowerment Groups
October 7, 2020
In this video, students from around the country join the politics department's first Debate 2020 watch party. And, check out what representatives from each of our Empowerment Groups have to say about their groups and getting involved this semester.
Music scores and Relay for Life plans
September 30, 2020
This week, the music department hits the virtual stage with their performance of originally scored music to the silent film Something New. Also, working creatively in the virtual environment, Relay for Life shares what they have been up to and events that are coming up.
Theater presents Forester Fridays Live
September 23, 2020
Go behind the scenes with the theater department as they produce their weekly Forester Fridays Live and learn how you can get involved in the fun.