Christopher Nyren '99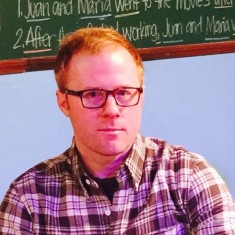 Christopher Nyren founded Educated Ventures LLC at the start of 2012 following his founding role with the global strategy and acquisitions team of the largest provider of post-secondary education in the US (Apollo Group) as well as subsequent education strategy projects with both one of the largest media and publishing companies in the world as well as the largest foundation in the world. His firm has grown to become a leading investment banking and advisory boutique focused on the education markets, completing over a dozen capital raises and direct investments totaling $70 million in capital and advising four clients with successful M&A processes.

Christopher has also founded Educelerate, a network fostering start-ups focused on education technology and innovation. They hold monthly meetups and workshops for a membership base exceeding 5,000 Educelerants as well as organized StartupWeekend EDU events across each of Chicago, the Twin Cities and Los Angeles. Podcasts and blog content are found at Educelerate.com.
Christopher spent the prior four years helping to build the Corporate Development & Global Strategy team for Apollo Group, the owner of the University of Phoenix and largest for-profit educational company in the world. During this time, he was involved in the creation of Apollo Global, a $1 billion joint venture private equity fund with the Carlyle Group. Over his career at Apollo, Mr. Nyren was the primary corporate development professional on every acquisition and investment they completed (totaling four domestic and international deals and over $750 million of aggregate consideration).
Christopher serves on the boards of GetSet and Wellspring and is an investor in All Campus, Decision Desk, GetSet, Learning.com, Learnmetrics, N2N, Nuro Learning, Presence Learning, and Sokikon.
Christopher has also worked in private equity, including the education focused fund LLR Partners. He started his career with the education and services coverage team at investment bank Credit Suisse. Mr. Nyren graduated magna cum laude, Phi Beta Kappa from Lake Forest College and received his MBA from the Wharton School of Business of the University of Pennsylvania.