<div style="background-image:url(/live/image/gid/95/width/1600/height/300/crop/1/42360_HOMECOMING_darker.rev.1523377981.jpg)"/>
Communications and Marketing
College Style Guide
Projecting a consistent and positive image allows the College to build and maintain an institutional identity that is easily and quickly associated with quality by all of our constituencies. The Office of Communications and Marketing reviews all external communications to ensure consistency.                                              
Chicago Manual of Style
The College follows the Chicago Manual of Style for writing and editing. People can access the online version.
Identity
College Colors
The College's colors are red and black. Pantone® (PMS) colors are to be specified whenever possible (see below).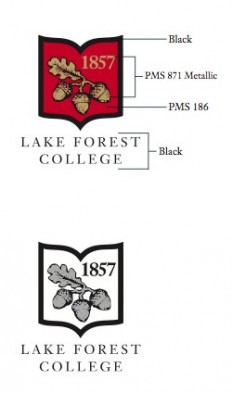 The Lake Forest College Logo 
The word mark, or logo, is central to our identity system. It is the only logo authorized to represent the College, internally or externally. Any other logo should be discarded. The logo may not be altered, reversed, or distorted in any way. Do not: add other elements to the logo, delete text associated with the logo, print the logo on distracting backgrounds or overlapped with other text and images, or integrate the logo into illustrations or cartoons. Please allow at least a quarter inch (1⁄4'') of space around the logo and do not reduce the size of the logo to less than a half inch (1⁄2'').
Logo Colors
The logo colors are PMS 186 Red, PMS 871 Metallic Gold, and Black. The logo may only be reproduced in these three colors together or in black and white.
Click here to download the Forester Five logo files. 
College Font
The College Typeface is Janson Text. If Janson Text is not available, Times or Times New Roman may be substituted.
  Media Relations
The Office of Communications and Marketing has responsibility for publicizing newsworthy activities of the College and the achievements of its faculty, students, and alumni. We pursue stories in local, regional, and national print and broadcast media that reinforce the College's reputation for academic excellence, opportunities in research, and connection with the local community and City of Chicago.
If you have a story that may be of interest to the media, or if you want to write an opinion piece for a newspaper or other publication, contact Linda Blaser for help. If a reporter contacts you directly, please notify the Office of Communications and Marketing prior to the interview.
Below are some helpful guidelines for how to work with reporters:
Do not ignore the call. If you do not want to take it, forward it to Linda Blaser.

There is no such thing as "off the record;" therefore, do not offer to  speak to a reporter "off the record."

If you are contacted for information outside your area of expertise, refer the reporter to Linda Blaser.

The Office of Communications and Marketing will handle all communications relating to a breaking news event or crisis.

Before commenting on facts or statistics pertaining to the College, please contact the Office of Communications and Marketing first.
Photography
The Office of Communications and Marketing coordinates campus photography, including contracting photographers and managing recent archives of slides, transparencies, and photographs. The College does not have a staff photographer, but the Office of Communications and Marketing will take requests for photos on a case by case basis, as time and budget permit.
Should you need photography for a project, the Office of Communications and Marketing can assist you in searching our current image database or in finding a suitable photographer. The Office of Communications and Marketing does not lend out its camera. 
Visual Communications can scan and deliver electronic images that are currently on file.

Video
The Office of Communications and Marketing produces videos for institutional marketing purposes only. It does not create videos for individuals or groups. Professors wishing to videotape their events or classes can contact David Levinson in the Donnelley and Lee Library for assistance.
Publications
College publications not only represent the departments or programs they promote, but reflect the institution's image as well. While not all publications need to look exactly the same, the more they adhere to the College's visual standards, the more professional the image the College projects. Any publications directed to audiences outside the College must be approved by the Office of Communications and Marketing prior to production.
Please contact the Office of Communications and Marketing or Visual Communications for assistance in developing your publication from concept through to final product. For assistance with layout, design, proofreading, or printing, please contact Visual Communications.
Posters
Posters should contain the following information:
Title
Speaker
Speaker information and photo if applicable
College name and logo
Location and directions
Cost or free admission status
Contact information
Sponsor information
Imprinted Products
A variety of vendors can produce items such as pens, mugs, key chains, magnets, etc. Please inform the vendor of our specifications and provide them with the appropriate artwork. If you need assistance, please contact Visual Communications to facilitate the transfer of accurate information.
Editorial Style
The preferred style follows that of the Chicago Manual of Style and Merriam Webster's Collegiate Dictionary.
This is intended for use with conventionally printed and electronically published materials. Style and format in non-printed personal correspondence may vary. When in doubt, please contact the Office of Communications and Marketing for clarification.
Abbreviations
Do not use in running text (Professor Cowler, not Prof. Cowler).
No periods in US
Acceptable abbreviation in first use if common (CIA, CEO, SAT, NCAA, AIDS, HMO, NASA, FBI). Otherwise, introduce by placing the acronym in parentheses after the first use of the spelled-out term.
Common Lake Forest College abbreviations (FacMan, DOF, ARA) 
The College's URL, domain name, and email are lakeforest not lfc.
Do not use LFC to abbreviate the College's name.
Addresses
In running text spell out North, South, East, West before the street name.
In running text spell out Street, Avenue, Road, Drive, Boulevard.
Advisor
Use advisor, not adviser.
African American, Asian American
Alumni Names and Class Years
These guidelines apply to all printed material. In personal correspondence the writer may wish to deviate from the suggested format. These guidelines should also be followed for friends and parents.
Spectrum, and other College publications, identify all people who attended the College, even if they did not leave with a degree, by listing their class year of preference immediately after their name set off with an apostrophe. Note that the direction of the apostrophe is curved away from the class year ('99). Note: Mac computer command for this is option + shift + ]. PC computer command is alt + 0146 (number lock on).The use of a straight foot symbol (') or the apostrophe facing the wrong way (') are unacceptable.
In Spectrum the first use of an alumni name (and class year) in running text is set in bold type. All subsequent uses in the same article or story are set in roman type and the class year is dropped.
Names and class years of current students should also be in bold type.
When referencing a student from the 19th century, the class year is designated by inserting Class of set off by commas following the name: Anna Farwell, Class of 1880. In the first use both the name and class year are set in bold type.
When referring to the 20th century, the class year is designated by inserting Class of set off by commas following the name when there could be confusion with the 21st century. If Jane Smith graduated in 1901, she would be designated as Jane Smith, Class of 1901 to avoid confusion that she graduated in 2001. For each new year in the 21st century, the rule for the 20th century will be adjusted.
Single or Married Male
  Frederick M. Van Sickle '83
Single Female
  Emily Holmes '99
Married Female
Include birth names in all references to alumna. Generally, a woman's birth name follows her first name and is spelled out unless she has specified that she wishes to use a middle initial or hyphenated last name.
Suzanne Zeddies Nyren '73
Female Using a Hyphenated Name
  Lisa Azu-Popow '92
Married Alumni in the Same Class Year
  Jennifer Franklin Ferrari '95 and Matt Ferrari '95
Married Alumni with Different Class Years
  Suzanne Zeddies Nyren '73 and Dennis Nyren '72
Alumnus Married to a Non Alumna/nus
  Susan and Frederick M. Van Sickle '83
Alumna Married to a Non Alumna/nus
  Ida Thomas Standley '71 and Wendell D. Standley
Different Gender Couples
With names of couples, the female's name always comes first.
Toni Potratz Mathis '61 and David B. Mathis '60
Same Gender Couples
For same gender couples, the alumnus name should appear first: John Smith '65 and Harry Brown.
If both individuals are alumni, they should be alphabetized by last name: Scott Jones '64 and Robert White '64.
Parent of Alumna/nus
  Carol Kleiman P'87
Parent of Multiple Alumna/nus
  Anne Chao P'04/P'08
Alumna/nus and Parent of Alumna/nus
  Al Reiss '73/P'06
Alumna/nus and Parent of Multiple Alumna/nus
  Suzanne Zeddies Nyren '73/P'99/P'03
MLS Alumna/nus
  Peggy Lynn Busceni MLS '05
Middle Initials
When proofing lists of names, especially if the list was generated by the Jenzabar EX database, a married alumna's middle initial should be manually deleted:
For example, in the case of Amy B. Frerichs Hernon '95, the B. should be manually deleted. But, if the alumna is not married, and she has a middle initial, it should be retained.
Alphabetizing Hyphenated and Multi-Part Names
Hyphenated last names are alphabetized by the first letter of the first name. Lisa Azu-Popow '92 would be alphabetized under A for Azu. Jane Wright Smith Brown would be alphabetized under B for Brown.
Prefix Titles
Drop all prefix titles such as Dr., Mr., Ms., and Mrs. in printed material such as: Spectrum and the Honor Roll of Donors. These titles may be retained in correspondence as appropriate.
Suffix Titles
Drop all suffix titles such as MD and PhD. 
Political and Military Titles
Drop all political and military titles such as Senator and Commander.
Alumna, Alumnae, Alumni, Alumnus
Alumna is feminine singular. 
Alumnae is feminine plural.
Alumni is plural. 
Alumni is also masculine plural. 
Alumnus is masculine singular.
Alum is singular and considered slang and accepted for casual usage.
Ampersand
       • Do not use an ampersand in place of the word and unless it is part of a formal title. (AT&T)    
Apostrophes
Do not use to form plurals (1940s, not 1940's; xs and ys, not x's and y's) unless it would be confusing without (thus A's, not As; P's, not Ps).
Possessives of singular nouns ending in s are formed by adding 's (Russ's dog).
Some grammarians say that plural nouns modifying other nouns do not need an apostrophe if they are used in a descriptive rather than a possessive sense (Parents Weekend is a weekend for parents, not a weekend possessed by parents).
If you want to be safe, use the apostrophe unless it is not used in a formal name (Department of Veterans Affairs).
Foot(') and inch('') marks should never be used for apostrophes and quotation marks. These are acceptable substitutions only in Web publishing.
Student Status References
Use first-year students instead of freshmen. 
International students is preferred to foreign students.
Juniors and seniors is preferred to upperclass students.
Board of Trustees
Capitalize the full and abbreviated forms: Lake Forest College's Board of Trustees or Board.
Buildings and Spaces on Campus
Capitalize North Campus, Middle Campus, and South Campus.
Use the full/official name of a building as designated on the list below.
Do not confuse buildings with similar names—Durand Art Institute, Lois Durand Hall, and Calvin Durand Hall; Reid Hall and Lily Reid Holt Memorial Chapel.
Building names
Alumni Memorial Field House Indoor ice hockey rink

J. Howard Wood Lounge

Blackstone Hall

Blackstone T.V. Lounge, Blackstone, 

3rd Floor Study Room

Buchanan Hall

Career Advancement Center

Health and Wellness Center

Campus Circle

Carnegie Hall

Judith Harmon Lounge

Center for Chicago Programs

Cleveland–Young International Center

Cleveland–Young International Center

Kitchen,

Cleveland–Young International Center

Library/Study Room,

Cleveland–Young

International Center T.V. Lounge

Deerpath Hall

Abbott Common Room

Deerpath Café

Deerpath Student Art Gallery

Donnelley and Lee Library

The Brown Technology Resource

Center (Room 208)

Mr. & Mrs. James R. Getz

Archives and Special Collections

Reading Room (Room 004);

 

Durand Art Institute

Albright Gallery

Sonnenschein Gallery

Facilities Management Building

Farwell Field

Glen Rowan House

Gregory Hall

Gregory T.V. Lounge

Halas Hall

Dau '58 Room

Harlan Hall

Harlan 3rd Floor Study Room,

Harlan T.V. Lounge

Hixon Hall

Allan Carr Theater

Hotchkiss Hall

Meyer Auditorium

Lillard Science Center

Dixon Science Research Center

McCormick Auditorium

Lily Reid Holt Memorial Chapel

Arthur Summerville Reid Hall

Lois Durand Hall

Lois Lounge

Lois T.V. Lounge

McClure Hall

McClure Study Room

McClure T.V. Lounge

Mohr Student Center

Boomer's Cafe

John and Christine Gates Center for Leadership and Personal Growth
Jim Kinney '59 Skybox

Simpson Balconies and Corridor

Moore Hall

Moore Conference Room

Moore Kitchen

Moore Multipurpose Room

Nollen Hall

Nollen Café

Nollen 3rd Floor Community Room

Nollen 3rd Floor T.V. Lounge

North Hall

Patterson Lodge

President's House

Brown House

Ravine Lodge

Roberts Hall

Mojekwu Lounge

Roberts T.V. Lounge

Southside Lounge

Sports and Recreation Center

Tiernan Trophy Room

Stuart Commons

Calvin Durand Hall

Hailand Court

Young Hall

 
 
The wording, design, size, and permit number for all such mailings should be approved by Visual Communications prior to printing.
Capitalization
Official names are capitalized (Office of Admissions, Department of Chemistry) but use lowercase for informal form (chemistry department, registrar's office).
Capitalize: Geographical areas and localities (the Midwest, the South Side of Chicago) 
Government bodies (the U.S. Congress, the Lake Forest City Council)
Historical periods (the Depression, the Enlightenment)
Names referring to a deity (God, Jehovah)
Sacred books (the Bible, the Koran)
Words denoting family relationships used in place of the person's name (Grandmother Jones)
Registered trademarks (Xerox)
Set lower case job titles (Stephen D. Schutt, president, but President Stephen D. Schutt) that are not official names or that appear after a proper name.
Set lower case departments or offices that are not official names (the alumni office); nouns used with numbers to designate chapter, rooms, pages, etc. (chapter 1, room 234, page 555); simple direction (the west coast of Michigan).
It is recommended not to type in all caps.
See also Board of Trustees, Commencement, conferences, course titles, degrees, department and programs, endowed professorships, fellowships and awards, the College, the Web, headlines.
Captions for Photos
Use (left), (from left), (l to r) or some other indicator if there might be confusion about who's who.
Do not use middle initial if the full name with initial is already in the story.
Do not use periods in captions that are not sentences. (Commencement ceremony)
Cities
Foreign cities commonly associated with a specific country do not need a country identification (e.g., London, Bangkok, Tokyo, and Toronto).
Comma (Serial)
Use a comma before "and" or "or" in a series (red, white, and blue—not red, white and blue).
Commencement
Capitalize Commencement when referencing Lake Forest College's. 
Conferences, lecture series, symposia, etc.
Capitalize formal names (the A. B. Dick Lecture on Entrepreneurship, the Annual Volwiler Distinguished Scientist Lecturship, the International Symposium on Display Holography).
College
Always capitalize College when referring to Lake Forest College. 
Corporations
Use the name used by the company, including abbreviations and ampersands. Inc. or Ltd. may usually be dropped, and "the" should not be capitalized.
Do not abbreviate company or corporation.
Course Titles
Capitalize in roman type.
Do not use quotation marks.
Dashes
Use en dash (–) for a range (pages 40–48, 1991–92) and to join adjectives when one of the adjectives is already a compound (New York–Boston route). Note: Mac computer command for this is option + hyphen. PC computer command is alt + 0150 (number lock on).
Do not use a space before or after em/en dashes. 
Use em dashes (—) for material that amplifies, explains, or disagrees. Commas may also be used for the same purpose. Note: Mac computer command for this is option + shift + hyphen. PC command is alt + 0151.
Do not use spaces before or after em/en dashes.
Hyphens, not en dashes, should be used in sports scores(11-0).
Use en dash (–) between times (10 a.m.–11a.m).
Dates
Use an en (–) dash to show a range of dates and do not repeat 19 or 20 (1998–99 and 1997–2002 and 2001–02). Do not use a space before or after an en dash.
If the day of the month appears, use a comma before and after the year (by the January 15, 2001, deadline). Do not use a comma between the month and the year alone (by the January 2001 deadline).
Do not use st, nd, rd, th, even if the dates are adjectives (March 1 event, not March 1st event).
Times come before days and dates in running text (at 9 p.m. Friday; at 9 a.m. Monday, June 7).
Months are not abbreviated.
Use numerals for decades (1960s or the '60s).
Degrees
Do not use periods in PhD, BS, MM, etc.
Do not capitalize bachelor of science, master of arts, etc.
Do not capitalize academic degree or major except for languages and proper nouns.(Her majors are English and communication and her minor is Asian studies. He received a bachelor of arts in biology.)
Honorary degrees should be spelled out (Lisel Mueller, honorary doctor of fine arts '85).
Use an apostrophe in master's degree and bachelor's degree.
Departments and Programs
The pass–fail option has a dash in it
Official names of College departments and programs are capitalized (Department of English, Department of Art)
Administrative Offices

Aramark Food Service

Career Advancement Center (CAC)

Cashier

Counseling Services

Facilities Management

Gates Center for Leadership and Personal Growth

Glen Rowan House

Health and Wellness Center

Interfaith Center

Lake Forest College Bookstore

Learning and Teaching Center (LTC)

Information Technology

Mail Services

Office of Admissions

Office of Alumni and Parent Relations

Office of Annual Giving

Office of Athletics

Office of Business Affairs

Office of Communications and Marketing

Office of Community Education

Office of the Dean of the Faculty

Office of Development and Alumni

Relations

Office of Financial Aid

Office of Intercultural Relations

Office of Human Resources

Office of Major Gifts

Office of Planned Giving

Office of the President

Office of the Registrar

Office of Residence Life

Office of Student Affairs

Public Safety

Office of Student Government

Office of Visual Communications

Writing Center

Academic Departments

Department of Art and Art History

Department of Biology

Department of Chemistry

Department of Communication

Department of Economics, Business, and Finance

Department of Education

Department of English and Creative Writing

Department of Modern Languages and Literatures

Department of History

Department of Mathematics and Computer Science

Department of Music

Department of Philosophy

Department of Physics

Department of Politics

Department of Psychology

Department of Religion

Department of Sociology and Anthropology

Department of Theater

Academic Programs

African American and Latinx Studies Program

American Studies Program

Area Studies Program

Asian Studies Program

Cinema Studies Program

Classical Studies Program

Digital Media Design Program

Entrepreneurship and Innovation Program

Environmental Studies Program

First-Year Studies Program

Gender, Sexuality, and Women's Studies Program

Graduate Program in Liberal Studies

International Relations Program

Islamic World Studies Program

Latin American Studies Program

Medieval and Renaissance Studies Program

Neuroscience Studies Program

Pre-Health Program

Pre-Law Program

Print and Digital Publishing Program

Self-Designed Major

Social Justice Studies Program

Urban Studies Program

 
Ellipses
Use three dots with spaces around each ( … ), but close up the space between an ellipses point and a quotation mark ("…).
If a sentence ends with ellipses, also use a period. (… and the game was over….)
Emeritus, Emerita
Use emerita for a woman (Professor Emerita Rosemary Cowler).
Use emeritus for a man (Professor Emeritus Bailey Donnally).
Use emeriti for the plural (Professors Emeriti Cowler and Donnally).
In running text (Franz Schulze, Betty Jane Schultz Hollender Professor of Art, Emeritus)
Endowed Professorships
Always capitalize the name of an endowed chair, whether before or after the name. (A. B. Dick Professor of Economics Robert A. Baade)
Faculty
May be singular or plural, depending on the context.
Fellowships, Funds, Grants, and Awards
• The formal name is capitalized (Fulbright Fellowship), but informal references (Fulbright grant) are not.
Lower case the "s" in National Merit scholarships and National Merit scholars. 
Always use complete and correct name. 
Andrew W. Mellon Foundation
Christopher C. Mojekwu Fund for Intercultural Understanding
Freeman Grant for East Asian Studies
Kemper Fund for Chicago Programs
For a complete list please contact Emma O'Hagan.
Foreign Words
Italicize unless the word is commonly used (cum laude, alma mater).
Fundraising
According to Webster's New World College Dictionary, Fourth Edition, first preference now is one word, no hyphen.
Fractions
Write out and hyphenate (two-thirds, three-fifths) in text.
A fraction and a whole number appear as numerals with no space between them and the fraction should be set in fraction case (63⁄4).
Freshmen/First-Year
Use first-year instead as appropriate.
Use lower case first-year for student and upper case First-Year Studies for program.
There is a dash between first and year: first-year
Grades, Grade Point Average
Do not put in quotation marks. 
Graduate Program in Liberal Studies
Spell out Master of Liberal Studies in first reference; abbreviate as MLS thereafter.
Headlines
Sentence case capitalization is preferred over title case in headlines. (Sentence case: Lake Forest student wins national award) (Title case: Lake Forest Student Wins National Award)
Hyphenation
In general, do not hyphenate words beginning with prefixes co, non, pre, post, or re, unless there would be confusion (co-op, post-master's) or the root begins with a capital letter (post-Renaissance).
Hyphenate pass–fail
Hyphenate words beginning with the prefix self.
Do not hyphenate compounds with vice (vice president or vice chair).
Hyphenate College-wide, but not campus wide.
Do not hyphenate fundraising, freelance, yearlong, healthcare, African American, Asian American.
Initials
Use middle initials in publications unless a person prefers otherwise.
Two initials should be separated by a space (A. B. Dick). 
The Internet
Invitations
Do not require end-of-line punctuation.
Numbers greater than 10 may be spelled out. 
Street number may be spelled out.
Either: 00 or o'clock may be used in times.
Lowercase a.m. and p.m. and set off with periods. 
Lecture Titles
Use quotation marks around the formal title. ("Your Future and Ours") 
Lectures and Annual Events
Oppenheimer Family Foundation lecture series
Volwiler Distinguished Scientist Lecture 
Ruth Winter Community Lecture
Steven Galovich Memorial Student Symposium
A. B. Dick Lecture on Entrepreneurship 
Katherine Filson Covington Memorial Art Exhibition
Lake Forest Literary Festival
Line Breaks
Do not break proper names. 
Do not break a hyphenated word except at the hyphen.
Do not have more than two consecutive lines end in a hyphen.
Do not allow ed, ly, st, or other two letter breaks to begin a line.
LFC
Names with Jr., Sr., II, and III
No comma separating the name and Jr. or Sr. or II or III (Eugene Hotchkiss III).
Names with Class Years
See Alumni Names and Class Years.
Numbers
One through nine are spelled out; 10 and above in numerals except that numbers of the same category should be treated alike within the same context.
First through ninth spelled out; thereafter, 10th, 11th, etc.
Use numerals with dollar sign ($3), temperature (8 degrees), scores (7-3), page (page 2), room (room 7), chapter (chapter 6) and percent (7 percent). Spell out percent in running text.
In most numbers of one thousand or more, commas should be used between groups of three digits, counting from the right (37,560; 1,512; 1,000,000).
Offices
Capitalize when formal name (Office of the Registrar), but lowercase informal form (registrar's office).
Resident Assistant, RA
Spell out resident assistant in first use. 
No periods in RA. 
No apostrophe in the plural (RAs).
States
State names should be given in full when standing alone.
When state names follow a city, they should be spelled out unless in lists, tabular matter, bibliographies, indexes, and mailing addresses.
Use a comma before and after state names when they appear with the city name. (…Chicago, Illinois, …)
Abbreviate states according to The Chicago Manual of Style.
Summer Session
Capitalize when it is Lake Forest College's. 
Telephone Numbers
In running text, use a dash between area code and number (847-735-0000).
Do not use parentheses around the area code.
Always include full phone number, never just an extension.
See section on dashes for further information.
Times
Lowercase a.m. and p.m. and set off with periods.
Use noon, not 12 p.m. or 12 noon.
Do not use a dash in place of to in a range of times introduced by from. (from 5 to 7 p.m., not from 5-7 p.m.)
Titles of Dissertations and Theses
Capitalize and set in roman type and within quotation marks. ("In Search of the Good Life: Language, Education, and Ethics")
Titles of Legal Cases
Italicize and use v. for "versus" (Brown v. Board of Education).
Titles of Organizations
Words such as club, team, and conference are lowercase when used alone.
The exception is College when referring to Lake Forest.
Titles of People
Capitalize formal titles preceding a name (Professor Robert Lemke, Dean Flot), but lowercase after a name (Robert Lemke, professor of economics and business) or if it is a functional title (program director Jane Smith).
Titles should be uppercase in lists and on business cards.
Titles of Publications
Titles of books, periodicals, (including online magazines), movies, television series, plays, works of art, musical compositions, collections of poetry, and long poems published separately.
Titles of lectures, speeches, episodes of television and radio series, songs, poems, articles from newspapers and periodicals, chapters, short stories, essays, and individual parts of books are set in roman type and within quotation marks.
Underlining is not appropriate in printed material.
The Web and Email
Do not hyphenate email; lowercase it except at the start of a sentence or as a title. (Note: This is one of a very few places where we do not follow the Chicago Manual of Style.)
http:// and www. are not needed at the start of a web address unless there is confusion about whether it is a web address.
Capitalize Internet but not web.
Italicize titles of online publications.
The College's domain name is lakeforest.edu. Do not use lfc.edu