<div style="background-image:url(/live/image/gid/6/width/1600/height/300/crop/1/30025_education.rev.1451945980.png)"/>
<div style="background-image:url(/live/image/gid/6/width/1600/height/300/crop/1/30028_english-_literature.rev.1452013046.png)"/>
<div style="background-image:url(/live/image/gid/6/width/1600/height/300/crop/1/30024_area_studies.rev.1451945934.png)"/>
<div style="background-image:url(/live/image/gid/6/width/1600/height/300/crop/1/29873_header-aerial.rev.1450206652.jpg)"/>
<div style="background-image:url(/live/image/gid/6/width/1600/height/300/crop/1/30485_library.rev.1454952369.png)"/>
<div style="background-image:url(/live/image/gid/6/width/1600/height/300/crop/1/30027_self_designed_major.rev.1451946126.png)"/>
<div style="background-image:url(/live/image/gid/6/width/1600/height/300/crop/1/29871_papers.rev.1452013163.png)"/>
Melissa Ramirez '20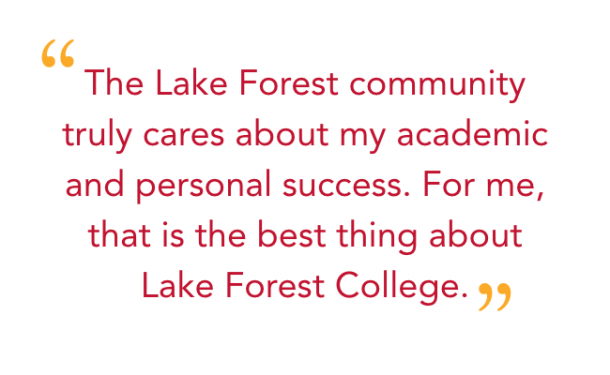 Why did you choose to attend Lake Forest College?
I chose Lake Forest College because of its high academic standards and small class sizes, the commitment of its staff and faculty, and the resources available through the Career Advancement Center.
Was there a deciding factor that sold you on attending Lake Forest?
I decided to attend Lake Forest College after seeing how committed faculty and staff are to helping students succeed. I experienced this the first time I visited campus, when I met with a professor from my intended major. She was willing to spend time getting to know me and talk with me about my future goals. She even gave me advice based on my career interests—all before I enrolled as a student.
Did you feel welcome on campus as a transfer student?
Yes, I felt welcome at Lake Forest College as a transfer student. During Orientation Week, the program was set up to make sure you have an easy transition by introducing you to all the resources available on campus. There are also social events, where you get to meet current students and other new students, like yourself. Students I met during Orientation have become some of my closest friends.
What do you like best about Lake Forest College? 
I feel that the Lake Forest community truly cares about my academic and personal success. For me, that is the best thing about Lake Forest College. In my time here, I have built many important relationships with faculty and staff.
Are you making use of the Career Advancement Center?
Yes, I am using the Career Advancement Center to get internships. By the end of my senior year, I will have completed two for-credit internships. My career advisor in the Career Advancement Center guided me through the internship search process to make sure it lined up with my career goals.
Do you have a favorite spot on campus?
My favorite spot on campus is Middle Campus. I spend most of my free time either at the library or Student Center with my friends. On nice days, I like to go outside for lunch, because the campus is so beautiful.
What advice would you give to a student considering transferring to Lake Forest College?
I would advise a student considering transferring here to explore the options at Lake Forest College. Take a tour, meet with current students, faculty, and staff to learn more about academics and resources available for you. At Lake Forest College, you can observe a class for your intended major, which can help you make the right decision.