<div style="background-image:url(/live/image/gid/6/width/1600/height/300/crop/1/30027_self_designed_major.rev.1451946126.png)"/>
<div style="background-image:url(/live/image/gid/6/width/1600/height/300/crop/1/30028_english-_literature.rev.1452013046.png)"/>
<div style="background-image:url(/live/image/gid/6/width/1600/height/300/crop/1/29871_papers.rev.1452013163.png)"/>
<div style="background-image:url(/live/image/gid/6/width/1600/height/300/crop/1/30485_library.rev.1454952369.png)"/>
<div style="background-image:url(/live/image/gid/6/width/1600/height/300/crop/1/29873_header-aerial.rev.1450206652.jpg)"/>
<div style="background-image:url(/live/image/gid/6/width/1600/height/300/crop/1/30024_area_studies.rev.1451945934.png)"/>
<div style="background-image:url(/live/image/gid/6/width/1600/height/300/crop/1/30025_education.rev.1451945980.png)"/>
Bailey Coleman '21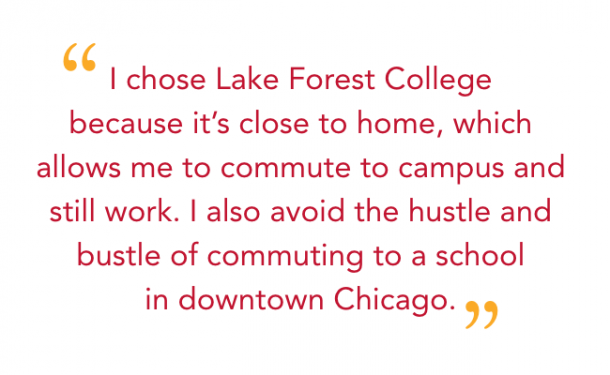 Why did you choose to attend Lake Forest College?
I chose Lake Forest College because it's close to home, which allows me to commute to campus and still work. Going to Lake Forest, I also avoid the hustle and bustle of commuting to a school in downtown Chicago.
Was there a deciding factor that sold you on attending Lake Forest?
One of the deciding factors for me was seeing how the College is nestled away in a beautiful neighborhood, which makes it both cozy and safe. I also liked the prospect of attending a smaller school so that it would be easier to get to know other students and my professors.
Did you feel welcome as a transfer student at Lake Forest?
Yes, I felt welcome as a transfer student. The first time I came to campus for a tour, I was greeted upon my arrival and welcomed warmly by staff and students along the way.
What do you like best about Lake Forest College? 
I like best that Lake Forest is a smaller campus where you get to know most of the students and faculty. I also really like the suburban setting and that it's near Lake Michigan.
Did you have a favorite spot on campus?
I have two, actually. I like the campus view from the fifth-floor windows of Young Hall and I also really like watching hockey games in the ice arena.
What advice would you give to a student considering transferring to Lake Forest College?
I advise a prospective transfer student to figure out whether they prefer a big college or a small one and whether they prefer the big city or a more suburban setting to attend classes.
—Peter DiPietro '20