<div style="background-image:url(/live/image/gid/64/width/1600/height/300/crop/1/29926_pre_health_header.rev.1450299900.png)"/>
Amanda Brunges
Amanda Brunges '18 used her experiences on and off the ice as a student-athlete at the College to continue on to her next stage of education at Rush University's nursing school. 
A valuable asset to the varsity women's hockey team and four-year member of the Forester All-Academic Team, Brunges made the most of her time at the College by getting involved in both athletic and academic organizations on campus.
What made you choose Lake Forest College?
I originally heard about Lake Forest College when I was recruited to play for the women's hockey team. When I first visited the campus, I absolutely loved it. Everyone that I encountered was kind and welcoming, and it felt like home to me right away. I was also impressed by the rigor of the sciences at the College and its well-established reputation.
How did a liberal arts education make a difference for you?
A liberal arts education opened my eyes to so many disciplines that I likely never would have been exposed to academically, if I had not gone to a liberal arts–focused school. For example, I took an introductory politics class as part of my liberal arts breadth requirements, and it sparked a deep interest in politics and made me feel much more in tune with the current events of the world. Even though I was a biology major, I took several classes in law and politics purely out of interest, and the knowledge I gained from those courses has helped me think more critically about how policies in healthcare impact patients every day. My liberal arts education helped me become a more well-rounded thinker.
What experiences outside of the classroom do you think helped prepare you for nursing school?
One of the things that really sets Lake Forest apart from other schools is the access students have to internship opportunities. When I was only a sophomore, I was encouraged to apply for internships and start thinking about which experiences I wanted to have outside the classroom that would help with my future career. As a pre-health student, I was not completely sure if I wanted to go to medical school, nursing school, or something different. After completing internships at Illinois Bone & Joint Institute and Lake Forest Acute Care, I was exposed to many areas of the health professions, and it helped me decide that I wanted to become a nurse.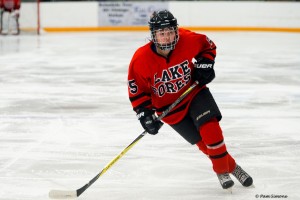 Playing a varsity sport also helped me prepare for nursing school because I learned how to effectively manage my time and how to be a good team member, which are two of the most important aspects of nursing.
How did your time at Lake Forest help you prepare to apply to nursing programs?
Lake Forest College has excellent pre-health advisors that helped prepare me to apply for nursing programs. Dr. Karen Kirk walked me through all the steps of the application process and made sure I was aware of the experiences I needed to have during college in order to be a good applicant, such as internships and volunteer hours. I utilized many professors' office hours and developed close relationships with them. Their obvious dedication to student success also helped me become a better applicant.
What skills and experiences did you gain at Lake Forest that you believe will help you be successful?
The most valuable experiences I had at Lake Forest that have helped me succeed were my two internships, my participation in athletics, and my leadership role as president of the Biology honor society, Beta Beta Beta. As president, I learned how to delegate tasks to group members according to their individual strengths, which led to great results for our organization as a whole. I also learned a great deal about public speaking and became much more confident in my ability to talk in front of a large group of people to have my voice be heard. These skills of leadership and confidence are ones I will carry with me and continue to improve on as I progress in my nursing career.
What advice would you give a high school student looking to pursue pre-health and is considering Lake Forest College?
For high school students considering choosing Lake Forest, I would encourage you to visit campus and see if you get that feeling of being at home, just like I did back in 2014. The brand new science center speaks for itself, but make sure you talk to a few faculty members as well during your visit so you can get an idea of just how special they are. As far as pursuing pre-health, my advice would be to explore your options. There are so many paths you can take in healthcare, and the best way to figure out which one is right for you is to put yourself out there. Volunteer, complete internships, job shadow, and talk to alumni. If you keep an open mind and play your cards right, you'll end up right where you belong.
—By Sangjun Hornewer '20