<div style="background-image:url(/live/image/gid/64/width/1600/height/300/crop/1/29926_pre_health_header.rev.1450299900.png)"/>
Tyler Hauer
Currently in his second year of orthopaedic surgery residency at the University of Toronto, Tyler Hauer '13 takes pride in the knowledge he gained as a Lake Forest College student.
Hauer took advantage of the opportunities the College offers and was able to showcase his abilities on and off the ice as a student-athlete and member of the varsity men's hockey team. After Lake Forest, he attended medical school at the University of Toronto and acquired his MD in 2018. 
What made you choose Lake Forest College?
I was recruited to play for the varsity men's hockey team and chose the school because of its size, proximity to Chicago, and its ability to provide the diverse academic experience I was looking for, with a high-quality pre-health program.
How did a liberal arts education make a difference for you?
A liberal arts education definitely made me a more well-rounded student and person. Rather than just studying sciences, I was exposed to courses centered around religion, social sciences, art, and music history. 
What experiences outside of the classroom do you think helped prepare you for medical school?
My time at the College helped me with crafting my application to medical schools. Being in a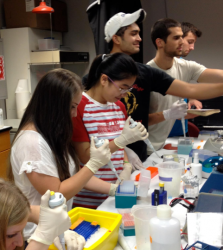 smaller pre-health program, I had the ability to get involved in a number of different groups and organizations. Additionally, I was able to perform research one-on-one with an accomplished researcher in Dr. Kirk. She taught me how to properly carry out a research project from start to finish, resulting in my first-ever publication and a senior thesis project. This was key in my medical school application and a great transition to medical research. 
What advice would you give a high school student looking to pursue pre-health?
I'd encourage any high school student to pursue pre-health at Lake Forest College for multiple reasons. The professors are truly great people and highly invested in your education, which will make you a better academic in four years. They will not only teach you the necessary didactic material but will also give you quality career advice along the way. The small classroom size allows for an incredible undergraduate research experience. You will perform research under the direct supervision of highly accomplished professors. Also, the proximity to Chicago will allow you to enjoy everything that the city has to offer—food, music, architecture, and most importantly, sports. Being a student at Lake Forest College was an honor and something I was fortunate enough to experience.
—By Sangjun Hornewer '20