<div style="background-image:url(/live/image/gid/6/width/1600/height/300/crop/1/30024_area_studies.rev.1451945934.png)"/>
<div style="background-image:url(/live/image/gid/6/width/1600/height/300/crop/1/29873_header-aerial.rev.1450206652.jpg)"/>
<div style="background-image:url(/live/image/gid/6/width/1600/height/300/crop/1/29871_papers.rev.1452013163.png)"/>
<div style="background-image:url(/live/image/gid/6/width/1600/height/300/crop/1/30028_english-_literature.rev.1452013046.png)"/>
<div style="background-image:url(/live/image/gid/6/width/1600/height/300/crop/1/30485_library.rev.1454952369.png)"/>
<div style="background-image:url(/live/image/gid/6/width/1600/height/300/crop/1/30025_education.rev.1451945980.png)"/>
<div style="background-image:url(/live/image/gid/6/width/1600/height/300/crop/1/30027_self_designed_major.rev.1451946126.png)"/>
Ervina Ajkic '20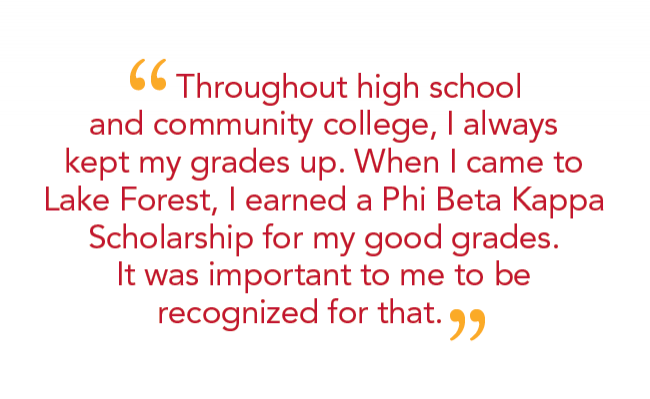 Why did you choose to attend Lake Forest?
One of my psychology professors at Oakton Community College recommended Lake Forest College as a great lead into the field of psychology and for liberal arts courses. Once I applied, I was connected to a transfer advisor during the summer and attended summer events for transfer students.
Was there a deciding factor that sold you on attending?
I truly felt that my academic success during high school and at the community college was treated with honor, especially since I am a first-generation college student. I earned a great scholarship that dropped my financial worries. I was not hesitant to make the choice to come here.
Did you feel welcome as a transfer student?
Absolutely! Staff and students stressed the importance of building connections, even though I didn't start here as a freshman. I met plenty of people during Orientation week and I can still recall those wonderful memories.
What do you like best about Lake Forest College? 
This place truly emphasizes the idea of a Forester Family. The generosity of this community struck me because I am used to having an individualistic perspective on how to work around my own goals in life. It's nice to have a sense of collaboration that is actually shown through actions of the staff and faculty at Lake Forest college. How you envision your future matters to them.
Are you making use of the Career Advancement Center? 
Of course! The CAC is the best way to get a sense of how one's major can expand in many careers, especially in areas that never crossed your mind. Currently, I am looking into psychology internship opportunities.
Do you have a favorite spot on campus?
I love Hotchkiss Hall. It is unique, spiritual, and my favorite spot to show my family. It leaves me questioning the historical background of the building, and I appreciate the distinction of it from modern buildings on other school campuses.
What advice would you give to a student considering transferring to Lake Forest?
The professors at Lake Forest are willing to guide you in the direction of your areas of study. As a transfer student, I assumed I would have to dismiss the idea of placing a minor but I was proven wrong after speaking with faculty members. Express your ideas and interests as much as possible! You never know where it will lead you.