<div style="background-image:url(/live/image/gid/84/width/1600/height/300/crop/1/5986_screen_shot_2016-11-30_at_3.27.37_pm.rev.1480543045.png)"/>
<div style="background-image:url(/live/image/gid/84/width/1600/height/300/crop/1/45667_Academics.rev.1531425285.png)"/>
<div style="background-image:url(/live/image/gid/84/width/1600/height/300/crop/1/45642_FIYS_Field_Trip.rev.1531246209.jpg)"/>
Sarah Coffman '21 and Siraj Ul Munir '21
Sarah Coffman '21 and Siraj Ul Munir '21 feel like they have already taken Equity and Social Justice in Education because they read so many texts and explored a variety of themes present in the 300-level course as Summer Richter Scholars.
As a result of their extensive research, they were given the responsibility to amend the syllabus by choosing to remove or add readings/texts and drafting critical-thinking questions to go along with these readings. The pair worked over the summer with Associate Professor of Education Desmond Odugu.
Q. How do you think the Richter Summer Scholar experience will impact your future?
Coffman: Richter has given me the opportunity to work with an amazing professor who will be a great resource for me as I continue pursuing the education path. I'm very excited to continue working with Professor Odugu during my college career.
Ul Munir: This experience helped me gain firsthand knowledge about conducting research, which will be crucial throughout my academic journey.
Q. What's it like working together with a professor??
Ul Munir: In this program, students are treated like professors' assistants rather than students. It's different than a typical classroom setting in which a professor leads the session. Richter scholars are expected and encouraged to lead and take initiatives on their own in the process of conducting research.
Q. What was your favorite part of the Richter Scholar Program?
Coffman: I've liked a lot about the Richter program, but my favorite thing is definitely seeing that professors actually have lives outside of the school year. Working one-on-one with my mentor and seeing other professors outside of a class setting has been an eye-opening experience for me. Because of the less formal setting the Richter program provides, it showed me that professors are people, too!
Ul Munir: My favorite part about the Richter Scholar Program was the long and deep discussions with my adviser, as well as getting to know and learn about topics that I previously had no idea about.
Q. What did you learn about yourself?
Coffman: Before completing this project, I was pretty unsure about my major. I knew I wanted to study history, but I wasn't so sure about studying secondary education. This experience has definitely showed me that I like to organize course materials and consider how students will respond to them. I think it would be a great career path for me, as I have an interest in both history and influencing students.
Ul Munir: During my time as a Richter scholar, I gained more confidence in my reading and analytical skills and learned that in order to master these skills, I need to work really hard.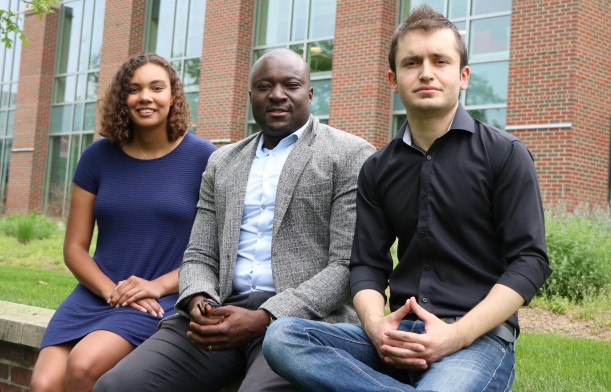 Sarah Coffman '21, Associate Professor and Chair of Education Desmond Odugu and Siraj Ul Munir '21
—By Sangjun Hornewer '20