<div style="background-image:url(/live/image/gid/84/width/1600/height/300/crop/1/45642_FIYS_Field_Trip.rev.1531246209.jpg)"/>
<div style="background-image:url(/live/image/gid/84/width/1600/height/300/crop/1/5986_screen_shot_2016-11-30_at_3.27.37_pm.rev.1480543045.png)"/>
<div style="background-image:url(/live/image/gid/84/width/1600/height/300/crop/1/45667_Academics.rev.1531425285.png)"/>
Omer Sadat '21
Sadat's research involved the synthesis of natural products and how it provides competitive advantage to some organisms. He worked with Assistant Professor of Chemistry Paul Gladen on this research to forge a path toward the synthesis of an antibiotic.
Q. How do you think this experience will impact your future?
A. Participating in the Richter Program will better prepare me for future lab work by giving me a valuable experience in a chemistry lab, especially this early in my college career.
Q. What's it like working one-on-one with a professor?
A. Learning one-on-one with a professor is way more efficient than learning in the typical classroom environment. Through this experience, I learned an incredible amount about the content I'm working on and lab procedures.
Q. What was your favorite part of the Richter Scholar Program?
A. My favorite part of the Richter Program was enjoying the summer with my friends while gaining an academic experience that I'm sure will be very helpful for the future.
Q. What did you learn about yourself this summer during the program?
A. Contrary to some opinions, lab work is not that bad.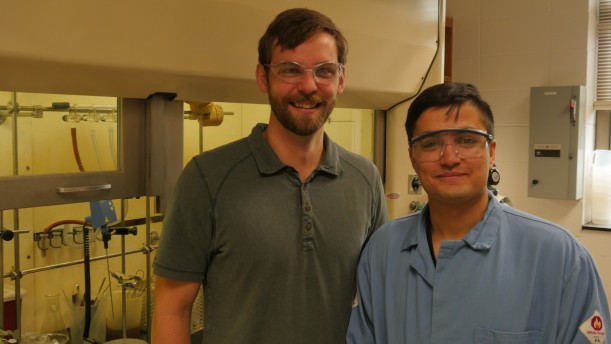 Assistant Professor of Chemistry Paul Gladen and Omer Sadat '21
—By Sangjun Hornewer '20