<div style="background-image:url(/live/image/gid/84/width/1600/height/300/crop/1/45642_FIYS_Field_Trip.rev.1531246209.jpg)"/>
<div style="background-image:url(/live/image/gid/84/width/1600/height/300/crop/1/5986_screen_shot_2016-11-30_at_3.27.37_pm.rev.1480543045.png)"/>
<div style="background-image:url(/live/image/gid/84/width/1600/height/300/crop/1/45667_Academics.rev.1531425285.png)"/>
Britt Dahlin '21
Working alongside Assistant Professor of Music Anne Barry, Britt Dahlin '21 learned how to use music-notation software to construct new musical exercises for choral singers. Dahlin used to play the violin and enjoyed getting back in the music field with her Richter project.
Q. How do you think this experience will impact your future?
A. While I am not a music major or minor, I have gained fundamental knowledge about the language of music. Participating in this particular project has also helped me enhance my skills in organization, communication, and collaboration.
Q. What's it like working one-on-one with a professor?
A. Professor Barry invests a lot of time each day mentoring me. While classroom learning is an important aspect of the undergraduate education, assisting with research and curriculum development provides hands-on experience that enhances my understanding of the meaning of a liberal arts education.
Q. What was your favorite part of the Richter Scholars program?
A. Working with Professor Barry and gaining a better sense of what research and curriculum development looks like in the humanities (music), especially since many people associate the concept of research with the STEM fields.
Q. What did you learn about yourself this summer during the program?
A. I am appreciative that Professor Barry entrusted me with part of her curriculum agenda. I discovered that I can tackle new and less familiar subject areas, with which I have less experience. I have also learned that it is okay to step out of your comfort zone and try new things.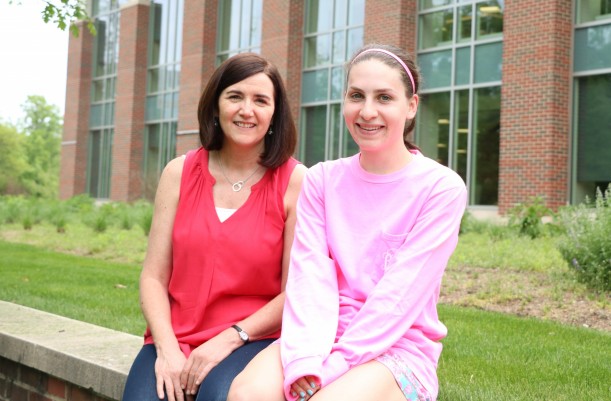 Assistant Professor of Music Anne Barry and Britt Dahlin '21
—By Sangjun Hornewer '20