<div style="background-image:url(/live/image/gid/84/width/1600/height/300/crop/1/5986_screen_shot_2016-11-30_at_3.27.37_pm.rev.1480543045.png)"/>
<div style="background-image:url(/live/image/gid/84/width/1600/height/300/crop/1/45667_Academics.rev.1531425285.png)"/>
<div style="background-image:url(/live/image/gid/84/width/1600/height/300/crop/1/45642_FIYS_Field_Trip.rev.1531246209.jpg)"/>
Arleigh Kraker '21 and Molly Schul '21
Arleigh Kraker '21 and Molly Schul '21 applied their knowledge of psychology to build an educational curriculum about sexual harassment and assault prevention. The pair focused on social learning theory and used their understanding to explain both bystander intervention (positive) and violence (negative). Assistant Professor of Psychology Susan Long guided the two through their research, ultimately leading them to present at a leadership workshop for the nonprofit organization Up2Us.
Q. How do you think this experience will impact your future?
Kraker: My research project has introduced me to a new side of psychology that I am passionate about now. My research will open doors to internships and jobs that I may not have had access to if I had not been part of the Richter program and worked with Professor Long.
Schul: I have always known that I wanted to major in psychology, so through this research I have been able to take my interest to another level by performing research in the field. Also, by working in such a specific area of psychology—in this case, clinical psychology—I've gained insight into one direction in which I can take my degree. Working in a lab has inspired me to consider new career paths to take as a psychology major.

Q. What's it like working together with a professor?
Kraker: Working with a professor makes the experience extremely personalized. She always asks my partner and I for feedback, which makes us feel more involved. The professors are very dedicated to making sure the students get the most out of the opportunity that we possibly can, and they are able to focus all their energy on their Richter Scholars. It's an amazing opportunity to get hands-on research experience with a professor as a rising sophomore.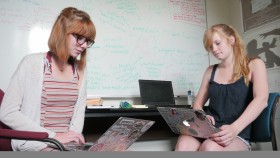 Schul: The relationship you develop with your professor during Richter is so different from the relationship you develop in the classroom. The environment where we work is very laid-back and personal. You are performing the research with a team. You learn new things together through the process and share equally important ideas. It's also really great getting to see your professor outside of a professional setting, where conversations can be more casual. Our meetings always end up getting sidetracked, whether it's because we're discussing our favorite movies or because Professor Long has a new cute video of her daughter to show us. It's always a fun time.

Q. What was your favorite part of the Richter Scholar Program?
Kraker: Meeting new people who I may not have met if it weren't for the Richter Scholar program and exploring the area with them was my favorite part of the program! It was fun to go to places like the beach, downtown Lake Forest, and Chicago.
Schul: Besides being able to perform exciting new research, my favorite part of the Richter Scholar Program was the free time I spent with my roommates and fellow Richter scholars. While we do work a lot during the day, there often isn't that much to complete outside of lab time, especially on the weekends. Instead of needing to do homework, we spent our free time in downtown Lake Forest, at the beach, or even in Chicago. I had so much more time to explore the area than I did during the school year, plus the weather was great!

Q. What did you learn about yourself this summer during the program?
Kraker: I learned that I am more interested in research than I initially thought I was. It also opened my eyes to the fact that using my psychology major to help victims of sexual assault may be something I'm interested in pursuing in the future.
Schul: I learned how important my ideas are, even to those who are much more experienced than I am. Something I really liked about being able to work one-on-one with a professor was the fact that I always had opportunities to share my opinions and ideas on the topic at hand. It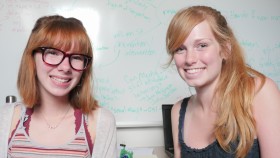 Arleigh Kraker '21 and Molly Schul '21 can often be intimidating to share ideas with professors because they have studied the topic so much more than you have, but as Professor Long said, it's important for any researcher to have a set of fresh eyes to look at information. She helped me recognize that even though she has been researching these topics much longer than I have, there are still things for her to learn and consider that I may know better than she does. One topic we focused on was post-traumatic growth, which she didn't have any background knowledge on. She assigned me an article about it to read, and the next day I taught the concept to her. It was a great way to show us that we were all on the same page about many things, and that experience in the field doesn't necessarily mean you're an expert at it. I loved the fact that the lab group could all learn new things together.
—By Sangjun Hornewer '20