<div style="background-image:url(/live/image/gid/10/width/1600/height/300/crop/1/29649_visit_campus-cropped.rev.1450717447.jpg)"/>
<div style="background-image:url(/live/image/gid/10/width/1600/height/300/crop/1/29874_header-aerial.rev.1450207337.jpg)"/>
<div style="background-image:url(/live/image/gid/10/width/1600/height/300/crop/1/29736_apply-_needs_to_be_cropped.rev.1451944927.jpg)"/>
<div style="background-image:url(/live/image/gid/10/width/1600/height/300/crop/1/48737_IMG_9636.rev.1541712259.jpg)"/>
Sarah Applebey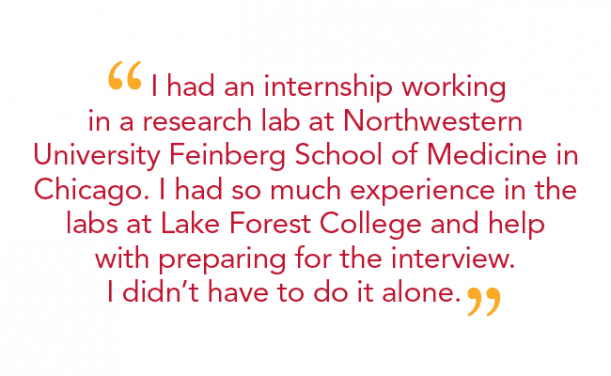 Why did you choose to attend Lake Forest College?
I visited the campus for the first time my senior year of high school, and I had a really good experience sitting in on some classes and meeting with professors. I went to the College of Lake County to save money my first year of school and then transferred in with no problem. 
How did you decide on your majors?
I started getting into science after my junior year of high school and psychology after I took an AP class my senior year. Neuroscience puts them both together. Ultimately, I'd like to pursue a PhD. This is a little bit obscure, but I'm really interested in food reward and stress-induced eating. I took a class with Assistant Professor of Psychology Jean-Marie Maddux that was an eye-opening experience. Neuroscience of Behavior just blew my mind. That's what I want to research.
Have you had research experience at Lake Forest College that will help you achieve your career goal?
I worked in a research lab at the Northwestern University Feinberg School of Medicine and currently am working in a research lab at Rosalind Franklin University of Medicine and Science. A professor in neuroscience emailed a lot of students about the Northwestern opportunity and I worked with the Career Advancement Center to help me with my resume and apply for the internship. Professor Shubhik DebBurman walked me through what I would be doing in the lab and he gave me some background information. I was well-prepared for the interview and so lucky. People say, "Wow, you went to Feinberg for your internship?" But I don't really feel like it was that big of a deal because I had so much background in the labs at Lake Forest College and help with preparing for the interview. I didn't have to do it alone.
Were you preparing to work in a medical school research lab? 
At Feinberg, the research they had me do was very similar to what I did in class in Biology 221. We looked at alpha-synuclein and truncated the protein and expressed it in yeast in class. I was very comfortable doing the same thing at Northwestern. At Rosalind Franklin, I'm working on the anxiety of behavior. I have friends who were working in that lab through a partnership the medical school has with Lake Forest College. I emailed the PI—the primary investigator at Rosalind Franklin—and asked if I could work in her lab. She said she'd love to have me intern with her. I already knew how to interact with PIs from Northwestern, so I felt comfortable reaching out.