<div style="background-image:url(/live/image/gid/10/width/1600/height/300/crop/1/29874_header-aerial.rev.1450207337.jpg)"/>
<div style="background-image:url(/live/image/gid/10/width/1600/height/300/crop/1/48737_IMG_9636.rev.1541712259.jpg)"/>
<div style="background-image:url(/live/image/gid/10/width/1600/height/300/crop/1/29736_apply-_needs_to_be_cropped.rev.1451944927.jpg)"/>
<div style="background-image:url(/live/image/gid/10/width/1600/height/300/crop/1/29649_visit_campus-cropped.rev.1450717447.jpg)"/>
Alex Kajcic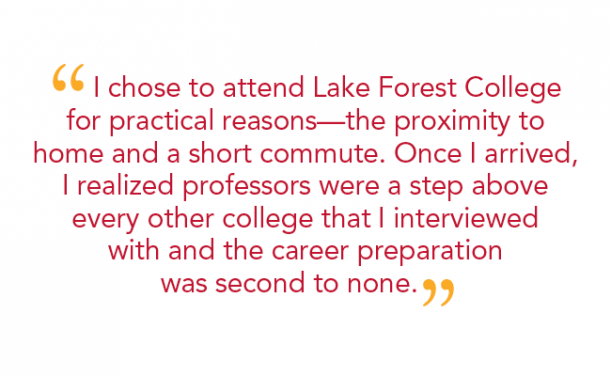 Why did you choose to attend Lake Forest College?
I chose to attend Lake Forest College for practical reasons—the proximity to home and a short commute—and also because I heard great things about the finance program. Once I arrived, I realized professors were a step above every other college that I interviewed with.
What was the single deciding factor that sold you on Lake Forest College? 
The deciding factor for me was my campus visit. I loved the area and the campus and enjoyed talking to the professors I would be learning from.
Did you feel welcome as a transfer student?
As a transfer student, I felt very welcome when I arrived at the College. I attended many different clubs and organization meetings when I first got here. I built my network from within so that I could better leverage the talents of the people around me.
What organizations were you involved in?
I was in the American Marketing Association—I even served as president, Student Government, Investment Club, and I always tried to attend lectures and presentations on campus.
What did you find to be the most valuable part of your time here?
I found the experience with the professors and staff to be the most valuable thing at Lake Forest College. I got a lot of one-on-one time, due to small class sizes and professor availability, where I could talk to professors, some who are experienced professionals in finance, and get an inside look at the business world. That helped me decide my career path and get to the place where I'm at today. That one-on-one is something you can't get at a lot of other schools.
How did the Career Advancement Center figure into your career success?
The CAC was instrumental in my success after Lake Forest College. They helped me put together my resume and cover letter, and they gave me more one-on-one time than I expected out of an institution this size. It was phenomenal. Joe Chmura was really helpful in building my resume and advising me. He put me on the path to Allstate pretty early during my senior year, because I was pretty proactive about the whole thing. He really helped me build a picture of what I wanted to do. From a finance perspective, there are many options. It's just a giant umbrella.
What role did the College's proximity to Chicago play in your decision?
Lake Forest College's proximity to an urban center like Chicago was instrumental in my success in the business world. It served as the platform for me to visit a lot of different companies and organizations where I could learn and gain exposure to the business world that you wouldn't get in a typical college classroom setting. Not only is it very easy to get downtown from the College, there are a lot of big companies peppered around the suburbs. There are a lot of options in the Chicago area for anyone who is looking to start their career.
Did you feel prepared to do your job?
The career preparation I received at Lake Forest College was second to none. I was able to talk about a lot of technical projects that I got to work on in my classes, and the exposure I got to various courses that other colleges didn't offer put me a step ahead in the career world. 
What advice would you give to a student considering transferring to Lake Forest College?
Start to build a network. Everyone at Lake Forest College is accessible and the best thing you can do is get involved, build your resume, and meet the people that you want to meet. That is the most important thing you can do: meet people, network, and help further your own path.