<div style="background-image:url(/live/image/gid/95/width/1600/height/300/crop/1/42360_HOMECOMING_darker.rev.1523377981.jpg)"/>
Communications and Marketing
Don Meyer presents World's Fair music at The Newberry
Professor of Music Don Meyer presented "Music at the 1893 World's Fair, a performance with commentary, at The Newberry, Chicago's independent research library, on October 17.
The evening event drew a large crowd to Ruggles Hall for the 90-minute program on the 1893 World's Fair in Chicago, which was celebrated as a key moment in the cultural life of the city and the nation.
The musical performance included pieces actually heard at the Fair as well as souvenir pieces sold as sheet music to be taken home and performed in living rooms and parlors across the country and throughout the world.
In addition to the presentation at The Newberry, the music used in the Chicago Tribune's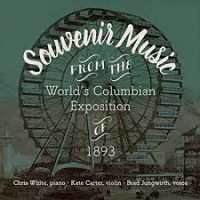 podcast miniseries about the World's Fair, "From the Midway," came from the album, "Souvenir Music from the World's Columbian Exposition of 1893," recorded by Meyer and others. Click here to listen to the first episode of the podcast.
Meyer's involvement in this exploration of Chicago's history is part of the College's Digital Chicago: Unearthing History and Culture project. Meyer has digitized the music associated with the 1893 World's Fair in order to preserve an important piece of Chicago history. You can visit the entire collection of digital humanities projects at digitalchicago.lakeforest.edu. 
These projects reflect the work of Chicago Fellows faculty, representing scholarship in anthropology and archaeology, art history, English, environmental studies, politics, religion, theater, and more, with other projects coming throughout 2018. 
In 2015, Lake Forest College received an $800,000, four-year (2015-2018) grant from The Andrew W. Mellon Foundation to involve students and faculty in exploring specific at-risk or forgotten sites in Chicago's history, through urban archaeological digs, innovative digital humanities projects, and complementary coursework in a wide array of disciplines, including English, history, art, music, and others.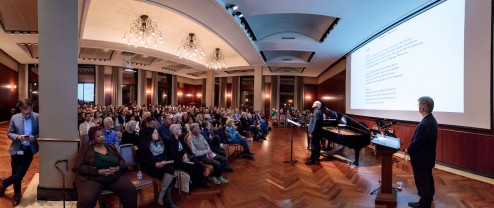 Music of the World's Fair presentation at the Newberry Library October 17, 2018. (Photo by John Zich)