<div style="background-image:url(/live/image/gid/95/width/1600/height/300/crop/1/42360_HOMECOMING_darker.rev.1523377981.jpg)"/>
Communications and Marketing
Chloe Johnston publishes new book
Ensemble-Made Chicago: A Guide to Devised Theater by Associate Professor of Theater and Performance Studies Chloe Johnston and Coya Paz will be released in November.
The book brings together the work of a wide range of Chicago theater
companies to share strategies for cocreating theatrical performance as an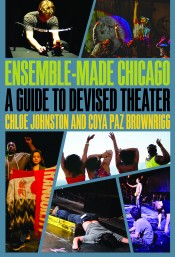 ensemble.
The introduction offers an overview of the history of correlated theater in Chicago, defined by the authors as theater that breaks down the traditional roles of writer, director, and performer in favor of a more egalitarian approach in which all participants contribute to the creation of original material. 
Each chapter offers a short history of a Chicago theater company, followed by detailed exercises developed and used by that company to build ensemble and generate performances. It pays special attention to the ways the fight for social justice has shaped the development of this aesthetic in Chicago.