<div style="background-image:url(/live/image/gid/95/width/1600/height/300/crop/1/42360_HOMECOMING_darker.rev.1523377981.jpg)"/>
Communications and Marketing
Students give back, get noticed
Fifteen members of the College's Nu Rho Psi chapter volunteered at Fall on the Farm at Lambs Farm in Libertyville on Sunday and were included in a news story in the Chicago Tribune.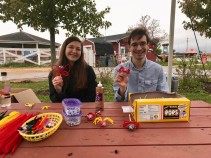 The Forester crew did face painting, pumpkin decorating and cookie decorating, among other activities, said Emma Kuhr '20.  
"It was pretty fun," Kuhr said. "It was just fun watching how excited the kids were."
Despite the rain Sunday, more than 1,000 people attended the two-day event at Lambs Farm, a non-profit organization that provides vocational and residential services for over 250 adults with developmental disabilities.
The Chicago Tribune's Lake County News Sun covered the event and interviewed Foresters. To read the story, click here.