<div style="background-image:url(/live/image/gid/95/width/1600/height/300/crop/1/42360_HOMECOMING_darker.rev.1523377981.jpg)"/>
Communications and Marketing
Global Fest celebrates cultural diversity
Global Fest—the community-wide program that celebrates the many cultures that are represented on the Lake Forest College campus—was a huge success.
Every year, the College community comes together to explore, learn, and enjoy what it means to be part of the world community. Students enjoyed special events every day during the week-long celebration that kicked off September 23.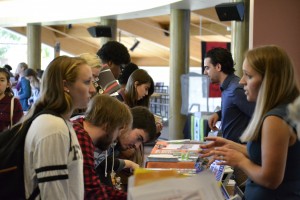 Global Fest 2018
Global F
est 2018 
featured a Study Abroad Fair,
Global
palooza, and the Intercultural Gala and After Party
.
Global
palooza is an on-campus
fest
ival open to the Lake Forest College community and this year featured cultural bands, free food, raffle prizes, interactive booths, and more. The 2018 Intercultural Gala hosted cultural performances and international food followed by the always-popular After Party.