<div style="background-image:url(/live/image/gid/95/width/1600/height/300/crop/1/42360_HOMECOMING_darker.rev.1523377981.jpg)"/>
Communications and Marketing
Foresters contribute to archaeological work at the Illinois Institute of Technology
Chair of the American Studies program and Assistant Professor of Anthropology Rebecca Graff advised the Illinois Institute of Technology (IIT) on taking next steps after discovering remnants of the Mecca Flats, a residential building that formerly stood at 34th and State streets in Chicago.
The discovery of a tiled basement floor was a surprise for IIT's College of Architecture students. The building was intended to house tenants during the 1893 World's Columbian Exposition, but its location on 34th and State streets made for a racial divide. Read more about the Mecca Flats here.
Paula Pelletier '21, along with IIT students and others, assisted Graff in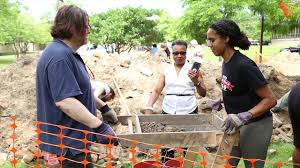 Paula Pelletier (right) works on the excavation of the Mecca Flats.salvaging the remnants of the Mecca Flats. Graff and the volunteers screened all the backdirt from the site excavations to recover artifacts. The research was supported by the Lake Forest College's Digital Chicago program.
"This is a super cool archaeological/historical project, and I loved having the opportunity to participate in hands-on fieldwork," Pelletier said. "Seeing how archaeologists conduct part of their research process and find cool artifacts—as well as being able to meet professionals from diverse fields—was a great learning experience."
Graff also led this summer a student archaeological excavations at a Chicago home rumored to have been a stop on the Underground Railroad. Students from her summer July Term course SOAN 205: Archaeological Field School conducted the archaeological dig to discover more information about the historical significance of The Gray House.
—Sangjun Hornewer '20