<div style="background-image:url(/live/image/gid/95/width/1600/height/300/crop/1/42360_HOMECOMING_darker.rev.1523377981.jpg)"/>
Communications and Marketing
Undergrads' research in Yale Journal of Biology and Medicine
Abeysiriwardena and Gascoigne started collaborating on the paper during the fall semester of the 2017-2018 academic year. Working with Dr. Angela Anandappa, the Founding Director for the Alliance for Advanced Sanitation and a Research Assistant Professor with the Department of Food Science and Technology at the University of Nebraska-Lincoln.
The findings of their paper show how nitrogen and phosphorous entering the water and rising ocean temperatures create and augment algal blooms, which produces toxins. These toxins can get into fish and crops through the water, which can affect humans through consumption, contributing to a lot of short-term and long-term illnesses.
Abeysiriwardena began taking interest in neurological diseases and their effects in high school.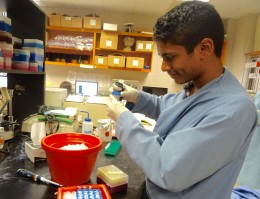 Niam Abeysiriwardena '20"I went to Paul Allen Cox's presentation at the college in November 2015 during the College's annual Brain Awareness Week events where Dr. Cox gave the Keynote Lecture, and it brought to my attention that hidden causes can affect the course of neurological diseases," he said. "The link to cyanotoxins inspired me to look further into the topic and to research the cause and effect relating to disease."
In addition to the lab work, data analysis, and research that played into the production of this paper, Gascoigne said that "this experience has definitely given me insight to the writing portion of research I had not previously been exposed." Abeysiriwardena said that he has "learned a great deal about how policy interacts with science, as well as how to connect different layers of a topic."
Both Abeysiriwardena and Gascoigne were selected for the Richter Scholar program last year and they conducted undergraduate research with Disque D. and Carol Gram Deane Professor of Biological Sciences Shubhik DebBurman and Associate Professor of Biology Alex Shingleton, respectively.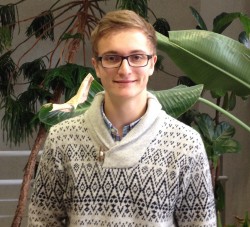 Sam Gascoigne '20This research opportunity Abeysiriwardena and Gascoigne gained is unique to Lake Forest College and provides rising sophomores with the opportunity to pursue independent research.
While Abeysiriwardena—age 15—is a neuroscience and computer science double major and Gascoigne is a neuroscience and biology double major, neither have had formal experience in the field of public health or microbiology. "This is an outstanding accomplishment for Niam and Sam, but I am not surprised by their enterprising effort so early in their academic career," Professor Shubhik DebBurman said. "The publication of their paper in the Yale Journal of Biology and Medicine highlights how the liberal arts education and the scholarly skillsets that we provide early to our students helps them confidently explore new areas of research inquiry and fearlessly connect their coursework to other disciplines." DebBurman was both Abeysiriwardena and Gascoigne's First-Year Studies professor and is their current academic adviser as well,
"We both feel accomplished submitting and publishing an article in a prestigious journal such as the Yale Journal of Biology and Medicine," Abeysiriwardena and Gascoigne said. "The experience is really great to have, especially as undergraduate students."
Abeysiriwardena is currently a summer research scholar at Northwestern University in Mitra Hartmann's lab working on a neural network and modeling project. Gascoigne is continuing to do research with Associate Professor of Biology Alex Shingleton and has also begun research in Assistant Professor of Biology Flavia Barbosa's lab, whom he will work with during the upcoming academic year. Both Abeysiriwardena and Gascoigne are planning to pursue PhD degrees in their future.
—Sangjun Hornewer '20