<div style="background-image:url(/live/image/gid/95/width/1600/height/300/crop/1/42360_HOMECOMING_darker.rev.1523377981.jpg)"/>
Communications and Marketing
Student workers prepare the VirtualSpace for this coming school year
This summer, three Lake Forest College students work to ensure the VirtualSpace, located in the Donnelley and Lee Library on Middle Campus, is ready for the fall semester.
The VirtualSpace is the College's first virtual reality (VR) space, one of several technological InnovationSpaces where students and faculty can, in addition to immersing themselves in virtual worlds, design and print 3D images, record electronic and digital sounds, and create multi-media works of art.
Three students have been working in the VirtualSpace since mid-May. Xavier Higa '19 and Binam Bajracharya '19, computer science students, are developing VR versions of several projects connected to the Digital Chicago Mellon grant, and Mayra Tlatelpa '21 is exploring ways of integrating virtual reality into the curriculum at the College.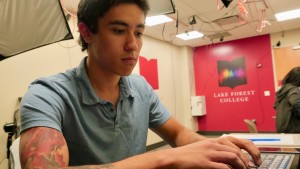 Xavier Higa '19 Not only does the space provide opportunities for students, faculty, and staff to explore the world of VR, but it also provides student workers the opportunity to understand better what goes into programming in a 3D environment. "It's really my first experience programming something that is going to be actively used," said Higa, who also majors in philosophy.
Although both Higa and Bajracharya plan to pursue studies of artificial intelligence, they have appreciated the opportunity to better understand how to program for VR.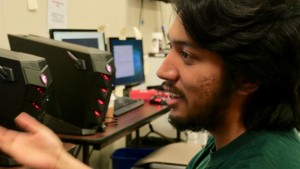 Binam Bajracharya '19 "I find it really enjoyable seeing things come alive as I write my program," said Bajracharya, "The space is pretty exciting, and I think it's a fun project because I'm writing code that allows me to create and interact with a virtual world. It's really gratifying when your code actually runs after hours of just working on it. It is also exciting for people interested in creating virtual reality because the way we're making this web application is through a pretty simple, HTML-based web framework, which anyone with a basic knowledge of HTML can do." 
Tlatelpa's job is slightly different from that of her peers. "I'm not a computer person. I don't know programming like my colleagues do, so I am looking at it more from a standpoint of what it feels like to be a person experiencing virtual reality as opposed to working on the mechanics of it," she said. Her work consists of finding ways to integrate virtual reality applications into the curriculum at the College by cataloging the variety of applications available in the VirtualSpace.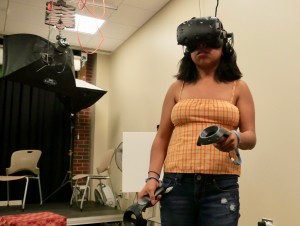 Mayra Tlatelpa '21
Chicago Digital Humanities Coordinator Emily Mace, who is working with Tlatelpa this summer notes that, "We are finding some really great apps that might be of interest in biology, music, foreign languages, or other not-so-obvious areas, and this summer we'll be reaching out to faculty about what we have." Faculty are also welcome to be in touch directly via the VirtualSpace email address, virtualspace@lakeforest.edu
"Some of the programs I've gone through are like works of art in terms of the quality of the graphics and sounds," said Tlatelpa. "There are a lot of cool games, of course, but there are also a lot of really immersive applications you can experience, ways to create art through virtual reality, and the limits of what can be achieved with this technology are really still being explored. The College's VirtualSpace can give students a chance to see some of that." 
Although the VirtualSpace doesn't have official drop-in hours over the summer, the students are excited to show interested faculty, students, or staff the space during regular college business hours. Please contact Jill Zwicke (zwicke@lakeforest.edu) to find a time or visit the VirtualSpace website here for more information. 
— By Nina Codell '20