<div style="background-image:url(/live/image/gid/95/width/1600/height/300/crop/1/42360_HOMECOMING_darker.rev.1523377981.jpg)"/>
Communications and Marketing
Lake Forest College Student Garden at Glen Rowan kicks off the growing season after a wet spring
Lake Forest College's 5,600-square-foot Student Garden is up and growing again this summer for the eighth season since its inception in 2010.
Located behind historic Glen Rowan House, the organic garden is maintained entirely by garden stewards, which are student workers under the guidance of Assistant Professor of Psychology Kathryn Dohrmann, who has an interest in health and the environment, and Administrative Assistant for Environmental Studies Stephanie Reuse '16. "The power really is with the students when it comes to the garden, which is one of the best things about it," says Reuse. 
This summer, the garden has three dedicated stewards and an ecosystem restorationist working tirelessly in the outdoor space anywhere from 15 to 30 hours a week: Danielle Oilschlager '19, Katie Donaldson '21, and Emma Hirte '19, with the help of Lanzheng Liu '19, a restorationist working for Associate Professor of English Ben Goluboff, who specializes in literature and the environment. Professors Dohrmann and Golubuff are both associated faculty in the Department of Environmental Studies.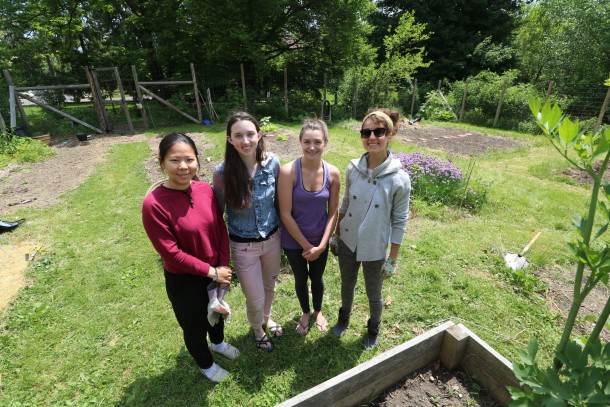 Lanzheng Liu '19, Emma Hirte '19, Katie Donaldson '21, and Danielle Oilschlager '19
This year, the gardening team is growing:
Tri-colored beans
Tomatoes
Thyme
Sage
Dill
Flowers
Chives
Asparagus
Lettuce
Sunflowers
Rhubarb
Strawberries
Blueberries
Spinach
Pumpkin
Squash
Everything in the garden is 100 percent organic, which can make weeding hard. While Donaldson admitted,"It's more work without the pesticides," she agreed with Hirte that the end result is "worth it." Pesticide-free and completely organic means everything is safe to eat directly after harvesting. 
"I finally felt like a real gardener when I ate lettuce from the ground," Oilschlager said. "That has been one of my favorite parts—it doesn't taste the same as lettuce from the store."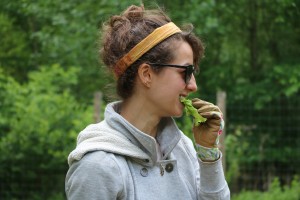 Oilschlager, a biology major who is interested in botany, spent last summer interning for credit at the Chicago Botanic Gardens in Glencoe, Illinois. Through the help of Assistant Professor of Biology Lynn Westley, Oilschlager had the opportunity to spend 300 total hours working in the labs of the plant science building, running her own experiments, and studying plants. After a successful summer at the renowned 385-acre garden, Oilschlager wanted "the hands-on experience out in the field."
"It has been maybe a month, but I have already learned so much," said Oilschlager.
Described as a "little oasis" by Professor Dohrmann, the garden is not only the perfect opportunity for environmental studies majors, biology majors, and students interested in gardening to have hands-on experience but also a relaxing and peaceful place to learn and spend productive hours with like-minded peers.
The garden welcomes volunteers! For more information on how to get involved, contact Steph Reuse at reuse@mx.lakeforest.edu
-Nina Codell '20