<div style="background-image:url(/live/image/gid/95/width/1600/height/300/crop/1/42360_HOMECOMING_darker.rev.1523377981.jpg)"/>
Communications and Marketing
Resiliency summit lays groundwork for College-wide focus
Across the nation, colleges and universities are seeing record increases in student mental health concerns. College students' level of distress and anxiety, and their ability to manage adversity and stress, has changed dramatically. To address this issue on campus, Lake Forest College hosted an all-day resiliency summit for faculty and staff on May 21.
In his morning talk, award-winning community psychologist Dr. Isaac Prilleltensky addressed the importance of "mattering" to personal well-being. "Mattering means 'I am a significant part of society.' We all want to belong," he said.
Ostracism and exclusion are some of the most cruel experiences people can have and fuel the "epidemic of anxiety and depression" among college-age students, he said.
Prilleltensky emphasized the need to help students avoid "tunnelling"—focusing on one single dimension in their life that creates a vicious cycle of anxiety. "Addiction to social media is increasing this vicious cycle and creating a toxic culture of never being good enough," he said. 
To counteract tunnelling, Prilleltensky advised the group to help students "identify the one thing they are really good at and nurture them," he said.
Following his talk, the group broke into separate sessions covering a variety of topics related to resiliency—the ability to bounce back and use obstacles and failures as launching pads to other possibilities—and well-being.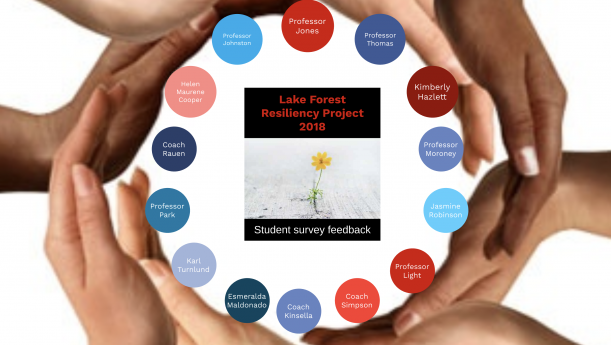 The sessions focused on the student experience with connections to career, academics, mindset, health and wellness, interpersonal relationships, and advising and mentoring. 
"The goals for the summit were to emphasize and demonstrate that the adversities our students face intersect and have meaningful impact on their success and well-being," said Assistant Dean of Students and Director of Health and Wellness Jennifer Fast. "It was important that we come together to create and use a common language and understanding of resiliency work in order to better help our students."
The day ended with a strategic planning session, led by Prilleltensky, on how faculty and staff can incorporate resiliency objectives into their respective departments that will become part of a broader campus plan. 
Members of the resiliency team are: Associate Dean of Faculty for Student Success Dawn Abt-Perkins, Assistant Professor of Music Scott Edgar, Jennifer Fast, Interim Dean of Students Erin Hoffman, Vice President for Development and Alumni Relations Phil Hood, Senior Associate Director of Residence Life Stacy Oliver-Sikorski, Dean of the Faculty Michael Orr, Assistant Professor of Mathematics and Computer Science Enrique Treviño, Director of Athletics Jackie Slaats, and Student Government representatives Sandra Khouri '20 and Charmaine Chung '18.