<div style="background-image:url(/live/image/gid/95/width/1600/height/300/crop/1/42360_HOMECOMING_darker.rev.1523377981.jpg)"/>
Communications and Marketing
Class of 2018 learns about life and personal growth
More than 400 seniors crossed the stage at Ravinia Festival Park on May 12 to receive their diplomas as graduates of Lake Forest College.
President Stephen Schutt opened the College's 140th Commencement ceremony with a warm welcome and thank you to family, friends, and guests who joined faculty and staff as they celebrated the successful completion by the Class of 2018 of their academic program.
The College welcomed three renowned individuals to receive honorary degrees at this year's ceremony. The first was Gary T. Johnson, president of the Chicago History Museum. He accepted a Doctor of Liberal Arts as the College recognized his passionate contributions to preserving the history of Chicago. Johnson believes that "history is made all around us—the history of today that is shaped by yesterday's events and today's people to create a future we can only dream of."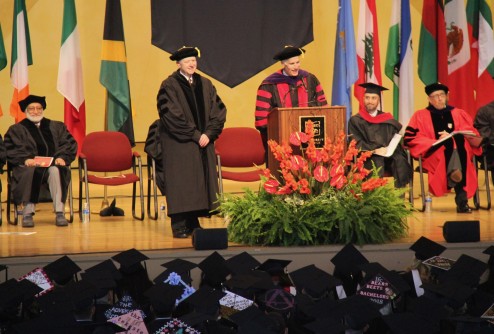 President Schutt confers an honorary Doctor of Liberal Arts on Gary Johnson (standing, left). Teepu Siddique (seated, left) received a Doctor of Science.
Accepting an honorary Doctor of Science was Teepu Siddique, MD, an internationally recognized expert on ALS, also known as Lou Gehrig Disease. After earning a medical degree at the University of Karachi in his native Pakistan, Siddique came to the United States and studied at several universities, finishing up at Northwestern's Feinberg School of Medicine. There, he holds the Les Turner ALS Foundation/Herbert C. Wenske Chair and recently began serving as the Founding Director of The Laboratory of Neurogenomics and Novel Therapies. Also, he founded the Feinberg School's Division of Neuromuscular Medicine, where doctors in the Chicagoland area now treat over 70 percent of its ALS cases. Siddique states that "the only way the human condition changes has to be by human effort. And the only way to overcome human suffering is through knowledge, new knowledge," which reflects his ever-growing passion for science.
Notable American novelist Jane Hamilton was this year's Commencement speaker. After finishing college at Carleton, she planned on going to New York City to pursue editing. Her path took a major turn when, on her way to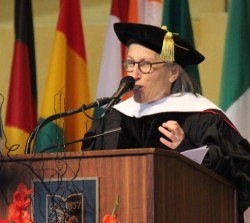 Jane Hamilton Manhattan, she met her future husband and then settled down in Wisconsin. From there, Hamilton wrote and submitted her works of fiction to editors in New York and became a hit. Schutt described her literature as "honest, unsparing, tragic at times—just like life—they also confirm the presence, or at least the possibility, of love, beauty and hope." Two works developed into major films, two were Oprah's Book Club selections, one was a Publisher's Weekly Best Book, and others were shortlisted for other awards. Hamilton received an honorary Doctor of Letters prior to addressing the Class of 2018.
In her address, "Lessons from my Tyrant," Hamilton told a story of perseverance, self-development, and growth. Speaking to the graduates, she talked about her English professor at Carleton College who commented that one of her essays reflected the writing skills comparable of a "grade school custodian," she said. "We all have had tyrants of some order in our lives and perhaps you have one or two in your present and you'll have them again." 
Hamilton shared three "rules" for approaching tyrants: Think carefully what your tyrant loves, never underestimate the lack of confidence in another person, and your tyrant shows you yourself in unexpected ways. Suffering through his course, she emphasized how her "response to his oppression— oppression-lite, let's call it—allows me the privacy and freedom to create a voice and a self. It is from that space I write."
Hamilton endured the harsh criticism and emerged from the experience a powerful writer and individual. She concluded her address with some words of wisdom for the Class of 2018: "We, in our brief moment, have the charge to reinvent the world," she said. "Take what you've learned here forward. Keep the great minds alive—minds that are not a part of the plinth of yourself—use that wealth and pass it on."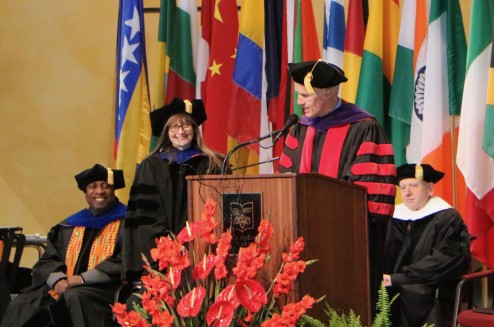 President Schutt names Janet McCracken as the recipient of the Great Teacher Award for 2018.
Following Hamilton's address, Professor of Philosophy Janet McCracken was honored with the Trustee Award for Teaching Excellence for demonstrating campus leadership and providing significant contributions to the life of the College community.
"Over her 25 years on campus, the College has profoundly benefitted from Janet McCracken's devotion to students and colleagues, sheer hard work, and remarkable campus leadership," Schutt said. Serving the College since 1993, McCracken has held several positions as well as received a number of awards.
The senior class speaker this year was Maggie Lynch '18 who earned an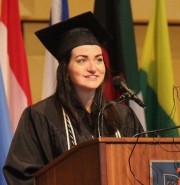 Maggie Lynch '18
English major and publishing minor while at the College. In her address, Lynch said college is "more than learning in a classroom. It is about finding the truth of life," alluding to the College's motto et veritas liberabit vos.
Describing personal experiences relatable for all students, Lynch concluded: "All of us are the versions of ourselves who have learned the truth of who we want to be and how we will get there. That version gets the diploma today and will head out into the world seeking further truth." 
— By Sangjun Hornewer '20