<div style="background-image:url(/live/image/gid/95/width/1600/height/300/crop/1/42360_HOMECOMING_darker.rev.1523377981.jpg)"/>
Communications and Marketing
Collaborative sculpture lights in Lillard Science Center
Assistant Professor of Biology Flavia Barbosa and Assistant Professor of Art David Sanchez Burr unveiled a three-dimensional, illuminated aquatic sculpture created by art students for the Lillard Science Center using the College's MakerSpace.
"Life Aquatic: A Study of Zooplankton and Phytoplankton" is an interdisciplinary study of zooplankton and phytoplankton in biology and art and the first collaborative academic project using the College's MakerSpace.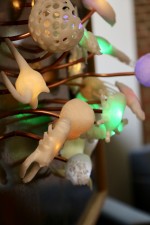 After picking what they wanted to illustrate and researching their selection, students in Art 233: Sculpture met with Barbosa, who supplied the science behind the project.
"Having Dr. Barbosa as a resource for this project was extremely helpful," said KeAnthony Thompson '19, a studio art major and digital design minor. "She was able to give us a lot of insight into what our phytoplankton or zooplankton would actually look like."
The models were first sculpted in plasticine and then digitally scanned and manipulated to create three-dimensional prints of the diminutive creatures. Care was taken to create accurate specimens that mirror what these creatures might look like should the viewer be able to observe them with the naked eye.
"The goals of this project were to give students the challenge of sculpting in plasticine and in digital software from two dimensional image references," Sanchez Burr said.
"We also wanted them to learn about our fragile ecosystems and the environmental impact of global climate change," Barbosa said.
The piece even has an interactive component: Viewers can scan a QR code and learn about each marine life form depicted.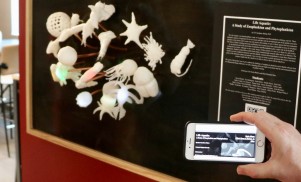 Studio art major Karl Fehn '19 thought the collaboration was a great way to bring together two disciplines that often work together.
"This was particularly interesting, because as long as artists have been illustrating, scientists have needed to illustrate what they're looking at," Fehn said. "It's cool that, as students, we got to experience this collaboration firsthand."
Academic Technology Specialist Connie Corso worked with students in the MakerSpace to create the sculptures using 3-D printing.
"The successful completion of this collaboration has paved the way for possibilities with other departments, for example, collaborating with chemistry professors to print 3-D molecular structures to help students better understand shape and symmetry," Corso said. "These successful collaborations will serve as a template for future interactions between academic departments and the MakerSpace."
The complete list of students who worked on the project includes: 
Derya Botsali '19,  Zoe Darlington '19,  Imani Davis '19, Natalie Dixon '20,  Fehn, Bailey Franks '21, Ava Gleason '20,  Megan Janda '19,  Hayley Kennedy '18,  Caitlin Lamb '20, Julia Lovelace '18, Fiona McMahon '18,  Hadley Mayse '20,  Kanoe Montano '18,  Jenna Rotunno '19, "Waffles" Soeleman '18, Thompson,  Mimi Vaintrub '18, Allison Watts '19,  Bridget Whited '19, Ryan Widmer '18, and James Winkler '18.

For more information on the project, www.visualart-soundart.com/lifeaquatic/