<div style="background-image:url(/live/image/gid/95/width/1600/height/300/crop/1/42360_HOMECOMING_darker.rev.1523377981.jpg)"/>
Communications and Marketing
Students create new social sciences, humanities journal
Students and professors from across campus came together to celebrate the inaugural launch of a new student-run journal called Inter-Text: An Undergraduate Journal for Social Sciences & Humanities on April 26.
The College's latest student-run journal officially started in the fall semester of 2017 upon authorization from Student Government, but the idea was in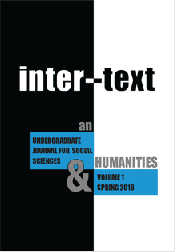 the works the prior spring, when history department SAAC members Michael Janeček '18 and Sarah Boomgarden '19 interviewed Rudi Batzell, now assistant professor of history, for a faculty position on campus.
When he was in college, Batzell was part of a similar student project. "It was one of the best experiences I ever had in terms of the community it brought together and the way it changed how I read and wrote," Batzell said.  
Fostering community within the humanities and social science departments on campus is exactly what the Inter-Text editorial board set out to do.
"I noticed that some majors, such as neuroscience, are surprisingly successful at facilitating a lively culture of support," said Janeček, a history and neuroscience double major and co-founder of Inter-Text. "It struck me that there was a hunger for similar interactions in many social sciences and humanities majors… Although setting up a journal may seem unorthodox to achieve this, my friends and I thought that it contained just the right mix of career-applicable skill development, interdisciplinary interaction, stimulating thought, and a relatively linear programming cycle to make it last."
Boomgarden, a history and religion double major and co-founder of Inter-Text, echoed Janeček's sentiment. "Inter-Text stands on the precipice of change," she said. "Together—authors, editors, professors, and audience—we make up the conversation. We represent the humanities and social sciences as a whole and the best Lake Forest College has to offer."
In just one semester, the Inter-Text editors carried their vision through the entire production process, from acquisitions to print.
"Impressive, ambitious, thoughtful, committed—these are my words for the editors," Batzell said. "Michael and Sarah seized upon the idea, and they had a vision for a broader community among students in the humanities and social sciences. And through persistence, that community came into reality."
Ayana Bankston '18, a double major in history and secondary education, was one of the distinguished student authors published in Inter-Text. She expressed her enthusiasm for the journal as an outlet for fostering dialogue outside of the classroom as well as its promising future on campus.
"I think the name Inter-Text says it all. This journal connects people and ideas from all over campus. It serves to remind us that we aren't just our major or career path, but a collective group of intellectuals," said Bankston.