<div style="background-image:url(/live/image/gid/95/width/1600/height/300/crop/1/42360_HOMECOMING_darker.rev.1523377981.jpg)"/>
Communications and Marketing
Students earn recognition for their original research
Katherine Beall '18 earned first place and Lauren Bell '18 an honorable mention to land a one-two Forester punch at the 2018 Midwest Economics Association undergraduate paper competition.
Beall earned top honors for her research and presentation on defined contribution retirement plans and to what extent the financial crisis of 2008 jeopardized pension balances and retirement benefits for many Americans. Beall's analysis, in particular, investigated how retirement behavior following the crisis changed for the young, middle-aged, and elderly­.
"I've always been interested in looking at the differences in millennial savings behaviors compared to those of older generations as well as studying how the financial crisis affected the savings behaviors for all age groups," the double major in finance and math said. "To document that ­millennials responded to the financial crisis with the same astuteness as older generations was a particularly satisfying result."

Katherine Beall '18When she was considering topics for her senior thesis, Beall had just accepted a job offer, to begin after graduation, as an executive compensation consultant at Meridian Consulting, where she interned the summer prior to her senior year and where she, too, will have her first defined contribution retirement plan.
Through her senior thesis, Beall decided "to study something that relates to me and my future in executive compensation along with something that I am genuinely interested in learning about."
Using four waves of the Surveys of Consumer Finances—collected every three years by the Federal Reserve Bank—Beall spent several months writing computer programs to construct the appropriate datasets and carry out the estimation. "My econometrics class really prepared me for that portion of the research project," she said. "The skills I learned through this thesis will help me excel in both my career as well as in my future education."
Beall is grateful she had the opportunity to present her work in such an important forum. "This will help me in my career and in graduate school, when the time comes," she said.
Bell, a politics and economics double-major who is minoring in legal studies, earned one of three honorable mentions in the MEA undergraduate competition for her paper and presentation on teacher attitudes toward education reform. She, too, used sophisticated econometrics in her research.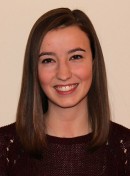 Lauren Bell '18
Using a nationally representative sample of teachers collected by the Brookings Institution, Bell showed that undergraduate training can help explain differences in teacher opinions regarding education reforms. "I got involved in research right away the summer after my freshman year through the Richter Scholar Program," Bell said. "My classes in both economics and politics continued to challenge me to be a better researcher."
For this contest, the Lake Forest students who competed went in well-prepared. "In addition to working closely with my thesis advisor, other faculty took time to listen to our presentations before the conference and ask questions to help us know what to expect the day of competition," Bell said.
Foresters Alex Rhodes '18 and and Luke Shylanski '18 also participated in the prestigious MEA competition, with Rhodes presenting his research on the effects of changing county economics on presidential voting and Shylanski on economic outlooks in the age of fake news. Rhodes and Shylanski are students of Associate Professor of Economics and Business Amanda Felkey, who works closely with her students on their independent research and seeks out opportunities for them to present their findings.
In all, 50 papers were submitted to the MEA undergraduate paper competition and 24 were accepted for presentation. Other colleges and universities represented in the competition included Grinnell College, Macalester College, Earlham College, Kalamazoo College, Ohio State University, Indiana University, Maryland University.
Beall is the third Forester to win the MEA competition in the last eight years, joining Evan Piermont '11 and Maggie Hennessey '14 who also received the honor. Professor of Economics and Business Rob Lemke, who has worked closely with both Beall and Bell over the past year on their senior theses, believes Lake Forest College's full-year senior thesis program gives Foresters a leg up in the competition.
"Most places have their students write a one-semester senior thesis, but we allow students to devote two semesters to their thesis," he said. "Our students have well-thought-out questions, the right approach, and the right answers. This focus allows our students to complete very sophisticated projects that present well on the national stage."