<div style="background-image:url(/live/image/gid/95/width/1600/height/300/crop/1/42360_HOMECOMING_darker.rev.1523377981.jpg)"/>
Communications and Marketing
Students create virtual 'adulting' manual
What skills does a young person need in order to transition successfully to adulthood in the United States? That is the question that Associate Professor of Anthropology Holly Swyers and 80 Lake Forest College students aim to answer in the Adulting Manual, a compendium of advice gleaned by interviewing professionals at different stages of their careers and analyzing their answers.
"The Adulting Manual consists of questions students found most important for post-college graduates about adulthood," explains Victoria Karker '18, a student involved in the project. "The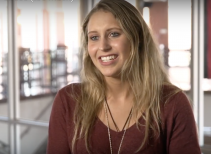 Victoria Karker '18Manual provides readers with personal stories and advice from post-college graduates about the various responsibilities of adulthood."
In the spring semester of 2017, SOAN 244: Anthropology of Education students interviewed dozens of their classmates to find out what topics concerned them most about adulthood. Based on their research, students in the fall's SOAN 320: Social Research: Qualitative Methods were able to assemble questions on six key topics of adult life: home life, jobs, finances, communication in personal relationships, communication with institutions, and health and well-being.
"This manual also brought a lot of topics that I never even thought of to my mind, and made me realize that there is even more to adulthood aside from paying bills and having a family," says Karker. 
Social Research: Qualitative Methods students interviewed 157 members of the Forester Career Network from all walks of life and ranging from the newly graduated to the retired. Students then analyzed the interview transcripts for shared themes and for differences in advice.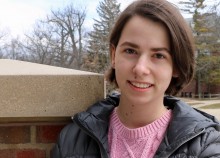 Dasha Rodina '18
Dasha Rodina '18, another student involved in the project, says that "doing interviews was almost like taking a peek at the adult's world though a window. I did not experience it, but I saw how other people have struggled and enjoyed their transition. I definitely expanded my knowledge about the transition to an 'adult' world." 
Rodina loved the project. "It was a lot of fun," the chemistry and sociology and anthropology double major said.
Alumnus Les Fossel '69 participated in the research phase of the project and feels

Les Fossel '69the online manual has value for people of all ages. "You never really become an adult," the 71-year-old admits. "We're all still growing and learning."
Questions that the Adulting Manual answers range from "When do you need a lawyer and how do you find one?" to "How do you decide which friendships to maintain?" to "How do you ask for time off or a raise?"
An answer to the latter question?—"When you are certain that you are bringing additional value to the company than when you first started there, that is a positive sign you may ask for a raise. Let your boss know what you have done for the company, and show that you have proven your value during your time there."

Holly SwyersAll of the questions and answers are hosted on a wiki, a format that allows easy crowd-source content development and editing, and the site has been beta-tested by several students from across the Lake Forest College community. Check out the finished product here.
"This project is a great example of what can be done with experiential learning design," concludes Swyers. "Come to Lake Forest College, and you can do interesting things."
—Sophie Mucciaccio '18