<div style="background-image:url(/live/image/gid/95/width/1600/height/300/crop/1/42360_HOMECOMING_darker.rev.1523377981.jpg)"/>
Communications and Marketing
14th annual Eukaryon unveiled
A crowd cheered the unveiling of the 14th annual life sciences journal, Eukaryon, during the inauguration ceremony in McCormick Auditorium on March 6.
Eukaryon is an award-winning undergraduate research journal that publishes the very best of student life science scholarship conducted at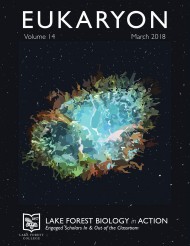 Lake Forest College. The journal is governed, peer-reviewed, and published by an undergraduate editorial board.
"This is a real testament to the incredible organization and leadership of students and to what students can achieve at the College. Congratulations on a job incredibly well done," Provost and Dean of the Faculty Michael Orr told the crowd. 
As part of the ceremony, Professor and Chair of History Anna Trumbore Jones presented the talk, "Medicine is a Social Science: Epidemics and the History of Inequality in the West," following a campus reception that celebrated the collaborative work of students and faculty at the College.
The 2018 online edition is available here.