<div style="background-image:url(/live/image/gid/95/width/1600/height/300/crop/1/42360_HOMECOMING_darker.rev.1523377981.jpg)"/>
Communications and Marketing
Thank you for an amazing Family Weekend!
About 300 visited campus for Family Weekend, a wonderful opportunity for parents and families to get a taste of what their student is experiencing at Lake Forest College.
The weekend of events kicked off on Thursday, February 1, with Lake Forest College's Night at the Art Institute of Chicago, where students and their families enjoyed free admission to the Art Institute with College ID. 
On Friday, February 2, families enjoyed classroom experiences, an art exhibit featuring the work of Associate Professor of Art Tracy Marie Taylor, a Virtual Reality Open House in our new Virtual Reality MakerSpace, and both men's and women's hockey games. 
On Saturday, February 3, families attended coffee with the Deans, a Career Advancement Center Q&A, ice skating and hot cocoa at the campus' ice rink, an ice sculpture carving, a reception for families hosted by the Parents Council, and men's and women's basketball and hockey games.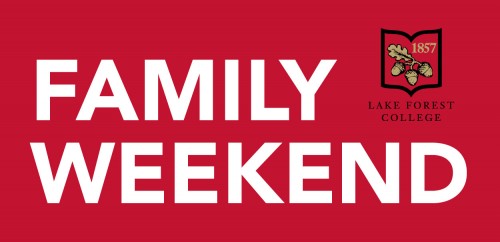 Family Weekend 2019
More than 300 people attended Family Weekend 2019. This annual event is a fun opportunity for the families of current students to experience campus life. Scheduled events include professor-led classes, coffee with the Deans, a Q&A session with the Career Advancement Center, Parent's Reception hosted by the Parents Council, and Forester athletic contests.
Parents and families also enjoyed a discount on apparel and gifts at the Bookstore all weekend.