<div style="background-image:url(/live/image/gid/95/width/1600/height/300/crop/1/42360_HOMECOMING_darker.rev.1523377981.jpg)"/>
Communications and Marketing
A faculty member you should know: Tracy Taylor
Sometimes, nothing can be as compelling or intimate as motherhood. While Associate Professor of Art Tracy Taylor was on maternity leave and sabbatical, she depicted just what being a mother to a newborn baby felt like for her.
Taylor's sabbatical exhibition opens at 7:30 pm on Thursday, January 25 in the Sonnenschein Gallery and Albright Gallery in the Durand Art Institute. The exhibition will be showing from January 25–February 21. 
The exhibition consists of 13 paintings and five sculptures that portray her newborn's cries and her observations as a mother.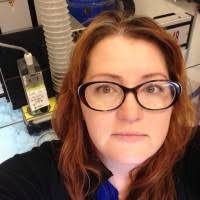 Tracy Taylor
Taylor, who earned her MFA from the School of the Art Institute of Chicago and focuses on teaching digital media and design, is a faculty member you should know.
Q: What opportunities do you see at Lake Forest College going forward?
A: "I think engagement amongst students and faculty is a really great opportunity. Working with students like the ones who are helping me put this exhibition together is one example. One of the students helping me is my studio assistant, Casey Benson '20, so he worked with me all semester when I was making my sculptures. I'm also getting additional help from Muhammed Soeleman '17, Cara Schwartz '20, Max Lewin '20, and Zanub Husain '20. This semester, I'm teaching a digital art course and I have intentionally left a portion of the exhibition undecided because I thought it would be really great for us to work together and plan how we want to present this material. I think, for me, it's an awesome opportunity to mentor students. But for students, they get that kind of real-world opportunity to help me build my art and put together an exhibition." 
Q: What advice would you offer to students?
A: "My advice would be to get to know the faculty. Don't be afraid to introduce yourself. I have students who reach out to me and then they are immediately on my radar. Out of 18 students, they're the first person whose name I remember. And it's often those students that I end up taking under my wing. It's simple things. I had a student in class today who kept making eye contact with me. It's so simple. I remember when I was a student, it seemed uncool to seem actively engaged in your class, and now I realize how many opportunities I might have missed. I would just say that you should get to know your faculty and make sure they know you. There are a lot of opportunities for mentorships or scholarships, but if you don't put yourself out there, we may never know that you're a perfect fit."
Q: What did you do when you were on sabbatical? 
A: "I was on sabbatical and maternity leave. I had a baby—my first baby. But also, I experienced maybe the most productive time in my life and my practice. I think partially it was because I had this incredible gift of a sabbatical, and I had this incredible gift of a baby because I'd been trying to have a baby for years and I didn't think I would ever get one. Having my son completely changed the direction of where my studio practice had been going for almost a decade. My work before this was very political and it was about historical moments—it was really not about me. After having my son, I realized my work did not feel present to me. Right now, I've got this child attached to me who is depending on me for everything, and I felt like the only way I could be productive as an artist was to make my work about this experience because this experience was so all-encompassing. I just made my work about motherhood and the challenges and the mundane, everyday aspects of having a baby."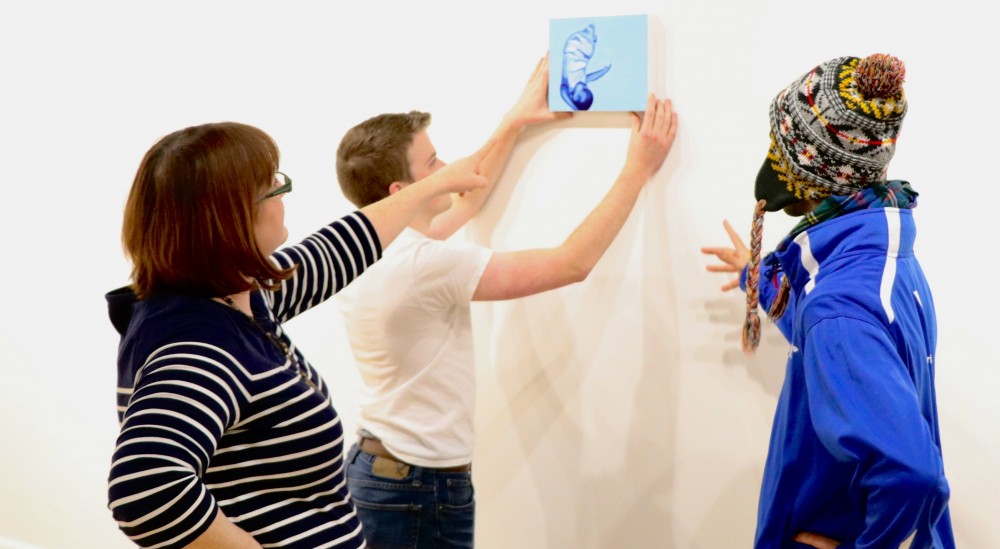 Tracy Taylor (left) worked with students throughout her sabbatical and during the installation of her current exhibition.
Q: Can you tell me about the details of the exhibition?
A: "I did a series of paintings and those were the first pieces I worked on. I was making those paintings while my baby was sleeping. They are paintings of my baby monitor or the surveillance monitor. I was interested in this sort of cyclical idea and making really quick paintings—they were all done for the most part in one sitting. The other series of work is a series of sculptures I created that are visual translations of his cries. I recorded him while he slept or while we tried to get him to sleep, and I would capture these moments of his cries. I would play the audio while running computer code that translated the sound waves into shapes. Then I would layer those shapes up, sometimes hundreds of times until I got this three-dimensional form I would carve out of a big block of foam with a computer controlled router."
Q: What are these sculptures like?
A: "Some of them are painted white and the forms are very undulated and gradual. Those for me looked like mountains and I thought of them, metaphorically, as my mountain that I had to climb. So those are presented as sculptures on pedestals. There are also other ones that sort of look like flowers—similar to bursts or splotches of paint. Those will be hanging on the wall and they're black. I chose black because I was thinking about a baby's cries and how totally aggressive it is. There's no worse form of torture than sitting and listening to a baby cry, especially if it's your baby. I wanted something that was super aggressive but also kind of beautiful."
Q: What medium did you use for the paintings?
A: "I used two different media. At first, I started with acrylic, so the blue pieces that feel much more representational are the ones in acrylic. Then, I decided to sort of shift my work, and I started to increasingly abstract the paintings. At that point, I also shifted to a material called flashe—it's a pigment that's used for creating signs and it's super matte, so there's no shine to it at all."
Q: Why did you title the exhibition, "The Shape of Your Sound"?
A: "Because the sculptures are literal translations of my son's cries, I saw all of this work as something I was doing for him. He is my audience. I felt really guilty for the time I wasn't spending with him, so maybe when he was older, he could see what I made from our moments together and from our moments apart, and it could be a beautiful homage to the love I have for him."
– By Tracy Koenn '18