<div style="background-image:url(/live/image/gid/95/width/1600/height/300/crop/1/42360_HOMECOMING_darker.rev.1523377981.jpg)"/>
Communications and Marketing
New Lillard Science Center opens for spring classes
After months of watching as the Lillard Science Center took shape on Middle Campus, students will now attend biology, chemistry, and physics classes in the addition this spring.
While classes are held in the new building, renovation of Johnson A, B, and D will take place. The renovation project is scheduled for completion by the beginning of the 2018-19 academic year. At that time, the environmental studies, psychology, and the new biochemistry and molecular biology program will move to the new facility.


One of the new state-of-the-art labs in the Lillard Science Center.
Completing the move was helped, in large part, by a group of students who worked as moving assistants over winter break to get the building ready for the start of classes.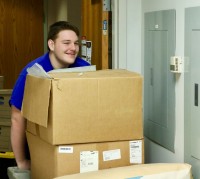 Marko Simovic '21The crew began assisting faculty with packing and moving to their new labs and offices once finals ended in December. Marko Simovic '21 is among the students who worked over break. This week, he and others helped Associate Professor of Biology Sean Menke move glass tanks, packed boxes, and assorted equipment to his new location. Molly Major '19 also worked on the moving crew, helping Associate Professor of Chemistry Dawn Wiser set up her lab in the state-of-the-art Lillard Science Center.
The College broke ground in the summer of 2016 on the Lillard Science Center, a $43 million expansion and renovation of the College's science facilities. The 130,000-square-foot facility includes a dramatic new addition, as well as the upgrading of existing space.
Designed to be interdisciplinary in nature, the facility will bring together teaching and research in biology, chemistry, environmental studies, neuroscience, physics, and psychology, as well as a new program in biochemistry and molecular biology.
"From the outset of the planning for our new building, it has been a priority that the renovated and expanded science center further our effort to support interdisciplinary collaboration and expand our students' understanding of the interdisciplinary nature of modern science," said Laurence R. Lee Professor of Biology and Science Building Project Coordinator Doug Light.
"Our science program is founded squarely upon a long-standing pedagogical philosophy of striving for students to think and act as scientists," Provost and Dean of the Faculty Michael Orr said. "This is a philosophy upon which we have based our science curriculum and from which we have seen students flourish in their post-baccalaureate careers."
At present, nearly 40 percent of students plan to major in the sciences at Lake Forest College.
Associate Professor of Chemistry Dawn Wiser and Molly Major '19 work side-by-side setting up Wiser's lab in the new Lillard Science Center.