<div style="background-image:url(/live/image/gid/95/width/1600/height/300/crop/1/42360_HOMECOMING_darker.rev.1523377981.jpg)"/>
Communications and Marketing
Student Government hosts city forum
The on-campus open forum with the City of Lake Forest, hosted by Student Government on November 14, was well-attended.
During the forum, which was held in the Mohr Student Center Skybox,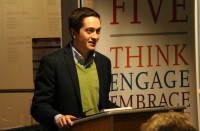 Student Government President Jeremy Levinson '18 during the city forum.students had the opportunity to ask questions about relations between the City of Lake Forest and the College.
Panel members were Mayor of Lake Forest Robert Lansing, City Manager Bob Kiely '79, Police Chief Karl Walldorf, President Stephen Schutt, Public Safety Director Rick Cohen, and Interim Dean of Students Erin Hoffman.