<div style="background-image:url(/live/image/gid/95/width/1600/height/300/crop/1/42360_HOMECOMING_darker.rev.1523377981.jpg)"/>
Communications and Marketing
Allstate Lunch and Learn draws a crowd
More than 50 students attended the Allstate Lunch and Learn in Vail Commons on Wednesday, October 11, to discover careers from company representatives, including Alex Kajcic '17 who secured a job there in strategic planning and forecasting before he graduated.
Working for an insurance company is not only about claims and premiums. "The reality is the insurance part of the corporation is one piece and running a major Fortune 100 company is another," Maureen Langkamp of Allstate told the group. Allstate offers students opportunities in marketing, strategy, finance, computer science, and more.
Allstate, which has 5,000 employees and is based in Northbrook, Illinois, looks for individuals with any major, who have a growth mindset, think outside the box, and like to tackle projects, Langkamp said.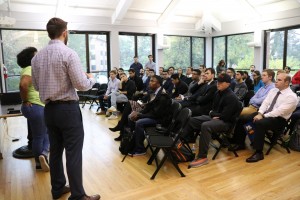 In addition to looking for individuals to fill entry-level jobs in areas throughout the company, Allstate offers three-year investment and finance rotational programs and 160 paid summer internships.
Langkamp advised students to attend Speed Networking and go to the Career Advancement Center to learn how to network and interview for internships and jobs. 
"Practice, practice, practice interviewing," she said. "When you do them well, you get hired."
Don't miss these upcoming CAC opportunities:
Envision Your Future: Next Steps at 4 p.m., Wednesday, October 11 in Meyer Auditorium
Dream Job Instagram post contest entries will end on Friday, October 13
Speed Networking Prep Sessions 

4 p.m., Wednesday, October 18 
Noon, Thursday, October 19
Noon, Friday, October 20
10:30 a.m., Saturday, October 21

Speed Networking 2017 at 5:30 p.m. Thursday, October 26 in the Sports and Recreation Center