<div style="background-image:url(/live/image/gid/95/width/1600/height/300/crop/1/42360_HOMECOMING_darker.rev.1523377981.jpg)"/>
Communications and Marketing
Celebrating—and studying—Jane Addams
Today is the birthday of Jane Addams, founder of Chicago's Hull House, where Lake Forest College students volunteered in the 1890s. Addams, whose nephew was an 1893 grad and whose brother-in-law taught at the College, recruited Lake Forest students for service projects.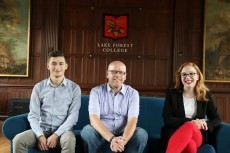 Fast-forward 125 years: Summer Richter Scholars Evangeline Bero '20 and Hakob Parsamyan '20 brought Addams' work into the limelight one citation at a time. Together with Associate Professor of Politics James Marquardt, they worked on building a website that focuses on her international peace advocacy.
Click here to read an interview with Bero and Parsamyan.