<div style="background-image:url(/live/image/gid/95/width/1600/height/300/crop/1/42360_HOMECOMING_darker.rev.1523377981.jpg)"/>
Communications and Marketing
Art appreciation
Susan Ryan '18 is getting hands-on experience this fall discovering exactly what goes into putting together an art exhibition.
Ryan helped install the first exhibit of the semester, "Unfinished," in the Sonnenschein and Albright Galleries in the Durand Art Institute on North Campus. This is meaningful hands-on experience for Ryan, who is double majoring in art history and sociology and anthropology while minoring in entrepreneurship and innovation.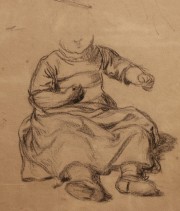 "Unfinished" features a group of drawings donated by Hugo Sonnenschein—the impetus for the formation of the gallery and for whom it was named—interspersed with student and alumni drawings.
Working with Director of the Gallery Rebecca Goldberg, Ryan grouped, measured, and aligned the pieces to create balance and cohesion across both galleries.
"I'm getting practical experience in installation and I'm going to help research future exhibitions," Ryan said. 
Co-curated by Associate Professor of Art History Miguel de Baca and Associate Professor of Art Karen Lebergott, "Unfinished" showcases studies and sketches from the College's art collection and from students and alumni. It will be open from August 31 through September 30.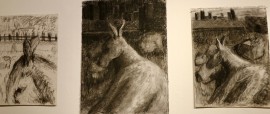 All student work was from Lebergott's Beginning Drawing class. Students selected for participation include: Zoe Darlington '19, Quinn Matuschek '19, Jay Nemoy '18, Rebecca Reitemeier '20, Beatrice Skeffington-Palmieri '19, Rebecca Shoup '19, and Ana Vieyra '18 as well as alums Stephanie Folger-Garate '17 and Martha Mallory '15.
The Opening Reception for "Unfinished" is 7:30 p.m. Thursday, August 31. The Gallery is open Monday/Wednesday/Friday: 2–5 p.m.; Saturday/Sunday: 1–5 p.m.; by appointment: 847-735-5194.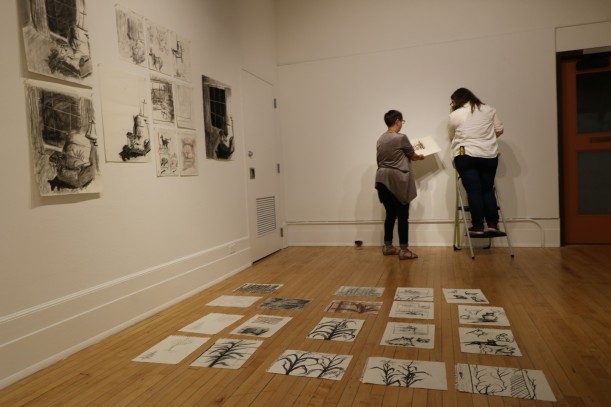 Director of the Gallery Rebecca Goldberg and Susan Ryan '18