<div style="background-image:url(/live/image/gid/95/width/1600/height/300/crop/1/42360_HOMECOMING_darker.rev.1523377981.jpg)"/>
Communications and Marketing
Meaningful lab experience after just one semester
Transfer student Philip Freund '18 has always had an interest in science and is already flexing his research muscles in a medical lab after just one semester at Lake Forest College.
The biology major and sociology and anthropology minor is looking for sex differences in protein expression by conducting experiments in the cellular and molecular pharmacology lab at Rosalind Franklin University Medical School (RFUMS). Specifically, he's staining rat brain tissue looking for the presence of an ion channel that may be related to sex differences in anxiety disorders. This transfer student from College of Lake County believes this experience will help him achieve his ultimate goal of becoming a scientific researcher. 
"A lot of future employers and graduate schools look for undergraduate research experience, especially when you're going into a research-oriented degree program," Freund said. "I feel this experience will help me with my applications to grad school."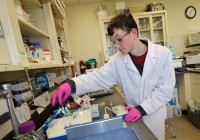 The hands-on lab work also will bring greater understanding to his undergraduate studies, Freund said.
"I'll get a lot of context to the studying I'm doing at Lake Forest College and I'll know more about why I'm actually learning about all these different proteins and ion channels," he said.
Freund is part of the Lake Forest College summer research training program for science majors at the RFUMS, located just 10 minutes away from campus by car or train. Every summer, 15 to 20 undergraduates conduct 10 to 12 weeks of paid research as RFUMS summer fellows. Alumnae of this program are successfully pursuing PhDs, medical school, physical therapy, optometry, and other scientific careers.