<div style="background-image:url(/live/image/gid/95/width/1600/height/300/crop/1/42360_HOMECOMING_darker.rev.1523377981.jpg)"/>
Communications and Marketing
Gaining skills—and having fun doing it
Nipun Chauhan '18 is loving his summer internship for so many reasons.
First off, there's the view.
"I love the location by the Chicago River," he said of Satori Energy's eighth-floor perch on Wacker Drive in Chicago's Loop. "It's great to take a break from the computer and look down at all the people and what's happening on the river."
Then there's the company culture.
"There's a really strong bond here," Chauhan said. "It's not always quiet with everyone engaged only with what's on their screens. Everyone's always talking."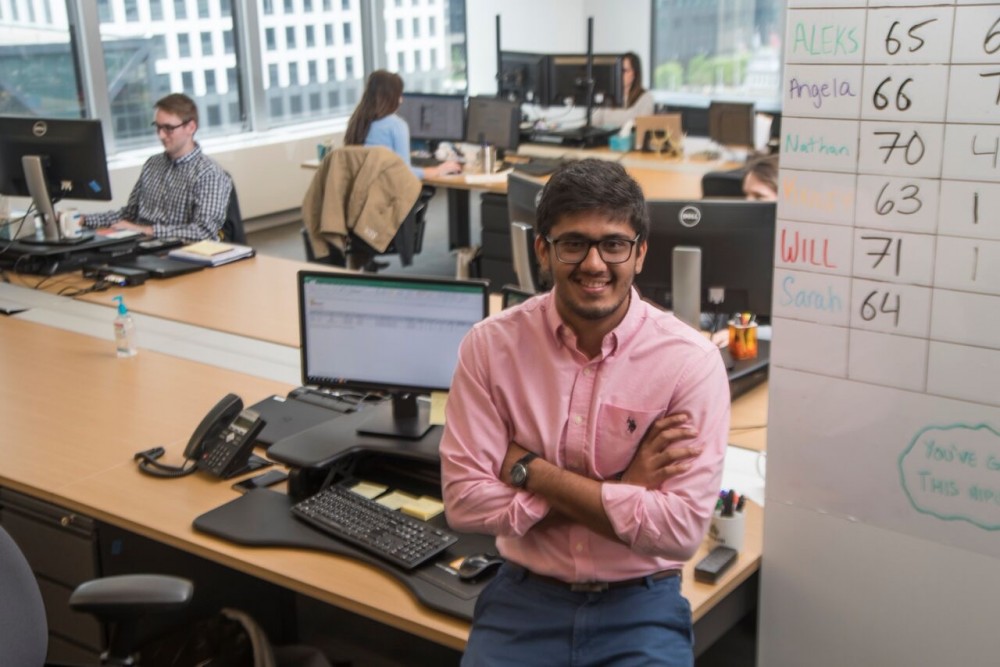 And the experience he's gaining is helping Chauhan get a better handle on where to focus his career.
"I've been entrusted with the responsibilities of a full-time price analyst," the finance major and entrepreneurship and innovation minor said. "That includes actually pricing contracts on behalf of some of our clients, and I'm also involved in the operations side of the company. I've set up proposals, pulled usage data, set up databases. It's been really interesting."
Satori is an energy consulting company that bands together residents and small businesses to leverage their buying power for lower-priced electricity from suppliers across the U.S. 
"This internship has opened my eyes to the energy industry and even the deregulated market in the U.S.," he said. "I've improved my computer database skills and, because I contact suppliers and customers, my professional communication skills, too."