<div style="background-image:url(/live/image/gid/95/width/1600/height/300/crop/1/42360_HOMECOMING_darker.rev.1523377981.jpg)"/>
Communications and Marketing
Bird's-eye view of Lillard Science Center
A drone camera captured aerial photos and video of the new Lillard Science Center renovation and construction project on a nearly windless, sunny morning.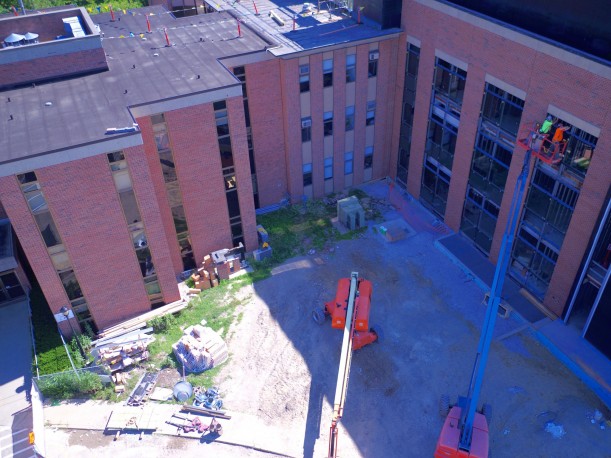 While ascending over the construction site, the drone camera captured this bird's-eye view of window installation on the addition. Once the drone reached 200 feet, the autopilot took the drone on a smooth circle around the site. 
Director of Facilities Management Dave Siebert requested the aerial images to view progress and determine best sidewalk placement.
The College broke ground last summer on the Lillard Science Center, a $43 million expansion and renovation of the College's current science facilities.
Following two years of construction, the 130,000-square-foot Lillard Science Center will open to students in the fall of 2018.
Designed to be interdisciplinary in nature, the facility will bring together teaching and research in biology, chemistry, environmental studies, neuroscience, physics, and psychology, as well as a new program in biochemistry and molecular biology.