<div style="background-image:url(/live/image/gid/95/width/1600/height/300/crop/1/42360_HOMECOMING_darker.rev.1523377981.jpg)"/>
Communications and Marketing
Foresters celebrate Arbor Day
Lake Forest College celebrated Arbor Day on Friday, April 28 by planting trees with a group that included representatives from Student Government, LEAP, and the Campus Sustainability Committee.
The event began in the Skybox with remarks from Student Government President Jeremy Levinson, President of the College Stephen Schutt, Lake Forest Mayor Robert Lansing, and Lake Forest City Manager Robert Kiely '79.
After the remarks, the group migrated to an area south of Glenn Rowan to plant trees.
"It was a nice event," Director of Library and Information Technology Jim Cubit said. "There was a great crowd of students participating."
Funding for the trees was provided through a collaboration between Student Government and Facilities Management. The collaboration was facilitated by the Campus Sustainability Committee.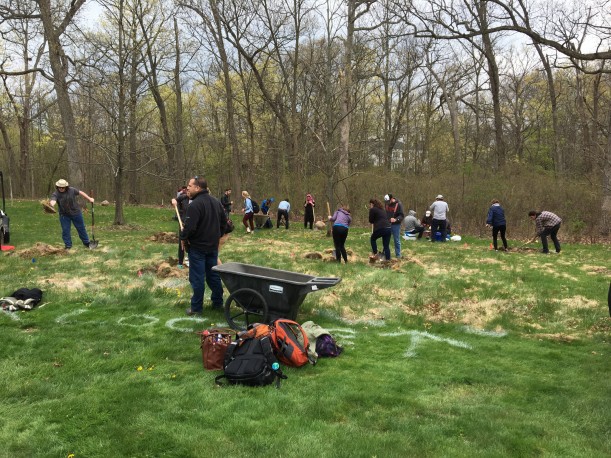 Jacob Badagliacco '19 (left) and Amalie Ausland Bjerkely '19 team up during the Arbor Day tree planting at Glen Rowan.
Silvia Kulbokas '20