<div style="background-image:url(/live/image/gid/95/width/1600/height/300/crop/1/42360_HOMECOMING_darker.rev.1523377981.jpg)"/>
Communications and Marketing
Landing prestigious University of Chicago Press internship
Rachel Tenuta '17 is getting critical behind-the-scenes experience in the world of book publishing as an intern at the University of Chicago Press, the largest and one of the oldest university presses in the United States.
The English major and print and digital publishing minor is splitting her 25-hour-a-week internship between the acquisitions department and the design group at the university located in Chicago's Hyde Park neighborhood. Tenuta is participating this semester in the Lake Forest College In The Loop Program, where students live in downtown Chicago while taking classes and working at a meaningful internship in the city.
In her time in the University of Chicago Press acquisitions department, Tenuta is working on multiple short-term projects, including sending manuscripts for experts to review and write quotes for the back of books, and long-term projects. One of her larger projects involves securing copyright permissions for the fourth edition of the textbook Principles of Animal Behavior by Lee Dugatkin. "I'm reaching out to publishers and working with Copyright Clearance Center and a number of other contacts to obtain permissions for all the images that will appear in the next edition of this textbook," Tenuta said.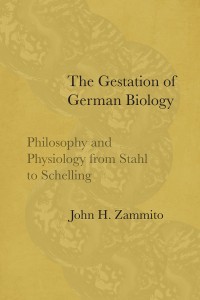 Her work in the design department is offering Tenuta an opportunity to expand the knowledge of book design she learned at Lake Forest College Press. Tenuta's résumé includes creating the cover design for a University of Chicago Press-published textbook as well as book designs she completed for Lake Forest College Press.
Her latest book cover "is a typographic design, where you figure out ways to make font and long text appear as art," she said of the cover for The Gestation of German Biology. "I made the typographic and color decisions for the cover myself. I really liked that aspect of the project."
The senior also designed book spines and back covers for front covers created by other designers. "I need to keep the look cohesive with the style they've created for the front cover—the main design—and make sure I put in all the information that needs to be included while creating something that's visually appealing," she said. "I've worked with a couple of different designers and I'm seeing very different styles, which is beneficial to my own design style."
Tenuta's internship work also includes setting up the inside files for the interiors of manuscripts. "Some of it is very simple set-up and some of the work is design-related and actually artistic," she said. Her previous work in the Lake Forest College Print and Digital Publishing Program helped entering this important internship. "In the design department, I'm familiar with all the work I've been given because," she said. "Acquisitions is all new territory."
Her experience book designing with two presses will help in her job hunt after graduation, Tenuta believes. "I'm becoming more knowledgeable about the many areas in publishing and I'll be able to talk about my experiences at both presses," she said. "I think this will make me stand out from other candidates."