<div style="background-image:url(/live/image/gid/95/width/1600/height/300/crop/1/42360_HOMECOMING_darker.rev.1523377981.jpg)"/>
Communications and Marketing
Close encounters
As he works his way through California's nature areas chasing wildflowers "the world over," Glenn Adelson reports close encounters with jumping chollas, pollinating yucca moths, and scorpioid cyme.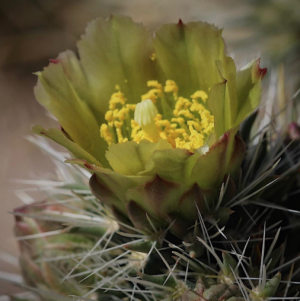 "Jumping Cholla is right — I'm writing this with a throbbing ankle from a piece of Cholla that 'jumped' me as I was trying to take this photo," the associate professor and Chair of Environmental Studies posted on Instagram. We feel your pain, Glenn. 
While on his yearlong sabbatical quest, Adelson just passed through Caspers Wilderness Park in San Juan Capistrano, Joshua Tree National Park in Twentynine Palms, Malibu Lagoon State Beach in Malibu, and Crystal Cove State Park in Laguna Beach. 
On his trek, Adelson came across Our Lord's Candle, which has a special relationship with yucca moths. Adelson posted this shot on his Instagram feed, thoughtstoodeepfortears, which currently has 1,875 followers: 
The common fiddleneck he photographed in Laguna Beach shows the perfect scorpion-like arrangement of the flowers: