<div style="background-image:url(/live/image/gid/95/width/1600/height/300/crop/1/42360_HOMECOMING_darker.rev.1523377981.jpg)"/>
Communications and Marketing
Hoping for a bumper crop
Isabelle Cadrot '19 and Olga Gutan '19 have their fingers crossed for a bumper crop this year in the student garden tucked behind Glen Rowan House.
The two Environmental Studies double-majors fooled Mother Nature and planted seeds weeks ago in the Ravine Lodge basement greenhouse for transplanting into the student garden. They hope to get a jump on the growing season and to increase the harvest. While most of the vegetables are sold at the City of Lake Forest Farmers' Market, the duo is exploring the possibility of offering $5 bags of organic produce for sale to students during the summer.
"No one has ever tried growing plants in the greenhouse to transplant in the garden," said Cadrot. "Normally students plant seeds directly in the garden after the last frost." At this point, the four varieties of tomatoes are almost a foot tall. "They'll be stronger than the tiny little seedlings that rabbits like to eat," Cadrot added. "Instead of starting to harvest tomatoes in July, we could start harvesting them in June, for example."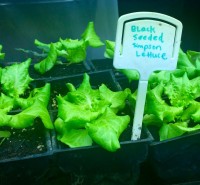 The two sophomores volunteered their time to start the seedlings indoors in late winter. Already they have quite a collection of young plants growing indoors: cauliflower, red peppers, two varieties of salad, cabbage, eggplant, broccoli, and four varieties of tomatoes. They tend the seedlings regularly, watering, monitoring the grow lights and circulation fan, and watching for problems. They've transplanted the young plants into larger pots, when needed, to keep them growing strong.
Gutan appreciates the opportunity to do the hands-on planting that this project offered. "This is a good learning experience on what it means to be, sort of, self-sufficient and what it actually means to grow your own food and how much effort you have to put into it," the double-major in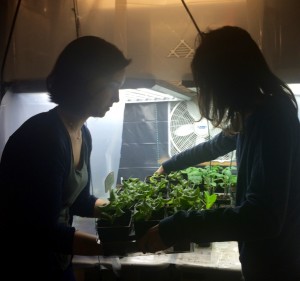 economics said. Hoping to pursue a career in economics, Gutan realized this was a chance she likely would never have again, so gladly volunteered to grow seeds indoors.  "I think it's good that, if I have an opportunity, to make the most of it," she said.
Cadrot, who is double majoring in French, hopes to work in communications or marketing—the people side—of a nonprofit or international organization that places value on the environment.
"There's a cultural deficit in that we don't value the environment more," she said. "I'd like to be engaged in protecting it, in some way. And I enjoy this field work. It's great to have a live thing in front of you that you're working with, where you can see it growing and you can eat the product. It's giving me a greater connection to the environment."