<div style="background-image:url(/live/image/gid/32/width/1600/height/300/crop/1/41839_V14Cover_Lynch_Artwork.2.rev.1520229233.png)"/>
The New Professor on The Block
Logan Graham
Department of Biology 
Lake Forest College 
Lake Forest, IL 60045
Since the beginning of her undergraduate education at Binghamton University, Dr. Jean- Marie Maddux had an interest in Neuroscience. At the time, the neuroscience major didn't exist, putting her in a dilemma of either pursuing a career in biology or psychology. She began by focusing in biology, later taking a few psychology courses, which would open her eyes to the intricate relationship between the two areas. Working in a lab during undergrad, an experience she highly recommends to all students, and one that would impact her career for years to follow, she realized the relationship between the two fields may not be so different after all. Her research model organism was rats, which didn't thrill her at the time. However, after learning how to properly care for them, she grew to appreciate their value, continuing to work with them to this day.
Snapshot: summer days at the Maddux Lab exploring behavioral paradigms (Dr. Maddux, Simon Kotto '19, Savannah Halcomb '19, Eliska Mrackova '19, and Abby King '19).
After completing her undergrad, Dr. Maddux became a lab technician at an immunology laboratory and later decided to pursue a PhD at Johns Hopkins University. After six years, she moved to complete her post-doctoral research at Concordia University, where she taught a few classes and realized she loved teaching, especially the interactions she was able to have with her students. The decision to come to Lake Forest College was a relatively easy one for Dr. Maddux. She appreciates the small class sizes Lake Forest offers as well as the individual conversations she can have with students. She finds students to be particularly "engaged," "polite," and "proactive," a teaching and learning environment she has thoroughly enjoyed in her first year at the college. Another component that she enjoys is the ability to conduct research in balance with teaching. This past summer Dr. Maddux hosted three freshmen Richter Scholar students in her lab, where she taught them how to properly handle rats just as she had been taught in her undergraduate lab. She hopes to have many more Richter Scholar students in years to come and is excited for the prospects this brings to her upcoming lab.
Currently, Dr. Maddux's lab is in its early stages, focused on establishing set behavioral paradigms and programming behind the scenes work before novel experiments can be made in future years. As Dr. Maddux's specialties lie in behavioral neuroscience and behavioral pharmacology, she has specific research interests and goals in learning about the connections between motivation, associative learning, attention and learning, and addiction and incentive salience. She is particularly interested in contrasting the reward related learning for natural rewards, such as food or sucrose, compared to drug rewards, such as alcohol.
When asked for a takeaway message for students, Dr. Maddux stressed the importance of sampling during college, or not locking down into one specific thing, but rather trying a variety of courses to broaden understanding and background knowledge as a whole. She strives to enable students to look beyond the textbook to get hands-on experience just as she did by working in a lab setting. Lake Forest College Students are thrilled to welcome Dr. Maddux as a new addition to the Neuroscience Program.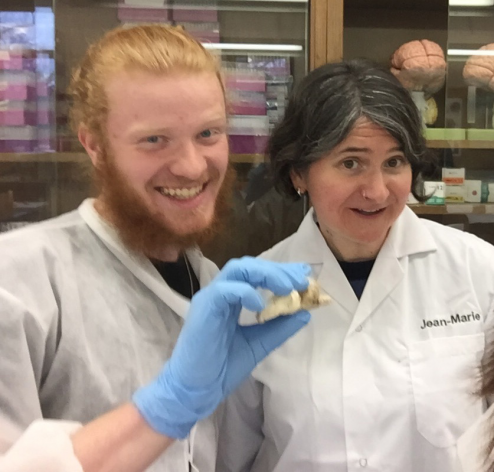 Student, Joseph Bortolotti '17, gloating over his hippocampal dissection during Behavioral Neuroscience Laboratory.
Note: Eukaryon is published by students at Lake Forest College, who are solely responsible for its content. The views expressed in Eukaryon do not necessarily reflect those of the College.