<div style="background-image:url(/live/image/gid/72/width/1600/height/300/crop/1/29629_students_at_the_beach-cropped.rev.1450736419.jpg)"/>
<div style="background-image:url(/live/image/gid/72/width/1600/height/300/crop/1/29877_header-skyline.rev.1450208143.jpg)"/>
<div style="background-image:url(/live/image/gid/72/width/1600/height/300/crop/1/29627_global_students-cropped.rev.1450736243.jpg)"/>
<div style="background-image:url(/live/image/gid/72/width/1600/height/300/crop/1/29863_header_photo_for_student_life-cropped.rev.1450736341.jpg)"/>
<div style="background-image:url(/live/image/gid/72/width/1600/height/300/crop/1/33295__dsc0161.rev.1473952666.jpg)"/>
Forester Health & Wellness Patient Portal
Students can make health appointments and some limited counseling appointments using our Student Health Portal. 
You may access the patient portal one of two ways. One way is by logging into mylakeforest.edu. Once there you will see the 'Forester Health and Wellness' link in the black box on the left side of your screen.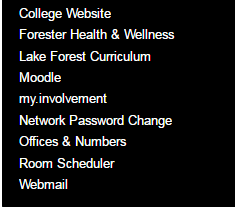 The second being https://lakeforest.studenthealthportal.com. Your username and password will be the same.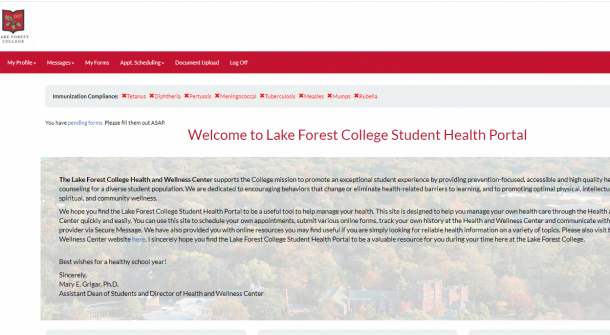 There are many benefits to students who are able to make their own appointments. Some of the appointments that you will now be able to make through the Patient Portal are; athletic physicals, injury, ailments due to the common cold, dermatology and an initial intake session in the Counseling Center to name a few.  Besides making and canceling appointments, you will be able to complete your medical and immunization history as well as complete intake forms prior to your appointment. 
If you have any questions regarding the, please don't hesitate to call Siobhan Michelotti in the Health and Wellness Center at 847-735-5240.